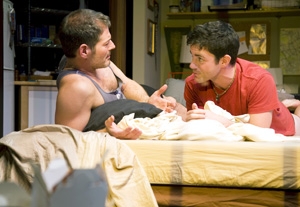 First-time playwright-producer Elliot Ramón Potts certainly has the courage of his convictions. He's put his debut script, which he finished barely a year ago in a mere four weeks, front and center Off-Broadway for a 10-week run at the Lion Theatre. He's hired a talented team of a director, actors, and designers. In an interview in Next magazine, he says he's "too impatient to give the reins over to someone else." Potts needs to develop some patience. "Loaded" is more treatise than play. While its central dramatic situation offers numerous possibilities, convincing characters are needed to mine them, and all Potts can offer is mouthpieces for his views. What could have been an intriguing exploration of gay identity in the 21st century ends up as an irritating pingpong match full of unbelievable behavior, manipulated emotion, and stilted manifestoes.
The setup is simple: Forty-seven-year-old Patrick and 24-year-old Jude have been casual sex partners for two months, having hooked up initially via the Internet. Tonight is their first sleepover, at Patrick's Manhattan apartment. Their intention is to explore the possibility of a more meaningful relationship. Generational gaps quickly emerge. Arguments over lesbians, AIDS, barebacking, political correctness, gay marriage, fear of commitment, sexual objectification, and other hot-button topics dominate the conversation. Perhaps it's how Rush Limbaugh might get to know Tucker Carlson in the sexual afterglow, but it's not persuasive for two gay guys intended to be representative members of their respective generations. Neither is Potts' overstuffed dialogue, which either makes both men sound like position papers or reaches for originality only to flounder: "What if the drawbridge...extending from your emotional 'fortress'...cannot cross the moat...and you have to dive into all that shit you've been avoiding," says Jude torturously at one point.
Under the unfussy direction of Michael Unger—who did such an excellent job re-imagining Kander and Ebb's "The Happy Time" at Washington, D.C.'s Signature Theatre last year—Kevin Spirtas and Scott Kerns work hard as the middle-aged top and his boy toy, managing to bring sufficient humanity to their roles to blunt the worst excesses of the script. As both actors self-identify as heterosexual, it's particularly to their credit that they succeed so completely in portraying the sexual heat between the two men. That palpable desire makes it understandable at first that Jude might stay despite Patrick's increasingly cruel behavior, but that motivation soon goes out the window.
Adam K?ch's slightly grungy studio apartment with skylight, lit efficiently by Herrick Goldman, tells us more about Patrick than Potts does, and Steven Schacht's costumes are both appropriate and sexy. Producer Potts has made some good choices, but he hasn't been so good to his author. "Loaded" needs a lot more work. Right now, it's overloaded.
Presented by Ramoncíto Productions in association with David Santana and Tim Sutton at the Lion Theatre, 410 W. 42nd St., NYC. Nov. 15–Jan. 23. Tue., 7 p.m.; Wed.–Fri., 8 p.m.; Sat., 2 and 8 p.m.; Sun., 3 p.m. (212) 279-4200 or www.ticketcentral.com. Casting by McCorkle Casting/Joe Lopick.