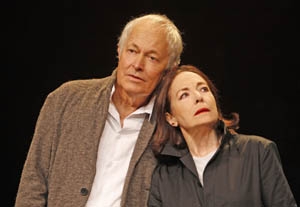 In just under an hour, the legendary director Peter Brook, two actors, and a musician take us on a journey through the myriad phases of mature love. "Love Is My Sin" is Brooks' adaptation of 31 of Shakespeare's sonnets, performed by Natasha Parry (Brook's wife) and Michael Pennington on a nearly bare stage, accompanied by the soulful musicianship of Franck Krawczyk on the accordion and keyboard. Brook has arranged these poems in four sections to form a dramatic arc, starting with declarations of love despite the advance of age ("Devouring Time"), moving through obstacles ("Separation" and "Jealousy"), and ending with the conquering of eternity through abiding emotion ("Time Defied"). It's like a perfect little jewel in a simple setting.
The two actors beautifully convey the vagaries of affection once youthful passion has cooled, seeming like an old couple that has been around the block more than a few times and grown used to each other's quirks. They strike the brightest sparks when fighting during the long "Jealousy" section. When he begins "My love is like a fever," Pennington seems overcome with illness, then works himself into a fit of rage. Parry matches him with a dry, withering sarcasm. During Pennington's rendition of "Those lips that Love's own hand did make," Parry is called on to say "I hate" to him three times. She gives each a different spin, beginning with bristling anger, then doubt, and finally tender pleading for forgiveness.
Krawczyk's articulate playing of Louis Couperin's 17th-century music provides a melancholy counterpart. At one point he even makes evocative sound effects: To illuminate the line "Like as the waves make towards the pebbled shore," Krawczyk pushes all the air out of his accordion without any accompanying music, creating a mournful sound like the ocean crashing on a lonely beach.
My only complaint is the piece's brevity. The 50-minute running time left me hungry for more. At the performance attended, Brook gave a fascinating after-show talkback in which he discussed his philosophy of direction and told amusing anecdotes of his long career. If such an addendum were part of every showing, or if a second program of sonnets could follow an intermission, this "Sin" would be a fuller meal.
Presented by Theatre for a New Audience at the Duke on 42nd Street, 229 W. 42nd St
.,
NYC. April 1
–
17. Tue
.–
Sat
.,
8 p.m
.;
Wed. and Sat
.,
2 p.m
.;
Sun
.,
3 p.m
. (
646
)
223-3010 or www.new42.org
.