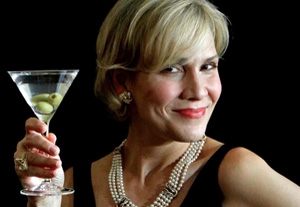 The press release for "Love, Linda" deems it a "one-woman musical." The program reads, "Book by Stevie Holland with Gary William Friedman." But don't be fooled, folks. This is a 50-minute cabaret act with a central gimmick allowing songstress Holland to raid the Cole Porter songbook. It's a perfectly presentable if unexciting cabaret act. As theater, it fails on all counts.
To begin with, the book writers never explain why such a famously private person as Linda Lee Thomas Porter would share the intimate details of her life with a roomful of strangers. It's certainly uncharacteristic of her, and absent any motivation, it makes it impossible to invest in the reality of the setup. In addition, while the autobiographical patter Holland delivers with just a trace of a Southern accent (Linda Belle Lee hailed from Kentucky) dovetails in surface ways with the songs chosen, the deeper connections are fraudulent. For example, she sings "All of You" to describe Linda's attraction to Cole upon meeting him. But that song is about sexual desire ("I'd love to make a tour of you/…The east, west, north, and the [pregnant pause] south of you"), while their marriage was based from the start on the fact that Linda didn't want a sexual relationship, largely due to the abuse she received at the hands of her first husband, the macho Edward R. Thomas. Later, when the couple splits temporarily because of Cole's indiscreet behavior in Hollywood with a bevy of young men, Linda pines for him with "My Heart Belongs to Daddy." But her relationship to him was maternal: "Daddy" is the last thing she was likely to call him. Moreover, the song is about a sugar daddy, but Linda Porter had even more money than her husband.
Holland sings attractively enough in a lightly jazz-inflected idiom. The style, however, prevents any serious interpretation of Porter's lyrics, which in turn prevents any serious exploration of Linda. It's also highly unlikely that Linda Porter, if she did sing, would sing in this manner. Holland looks fetching in a sleeveless black gown with a quadruple string of pearls around her neck, and she holds a martini glass with insouciance. She's backed by the fine trio of Landon Knoblock (piano), Peter Brendler (bass), and Jeff Davis (drums), playing Friedman's busy arrangements (though I did enjoy his "Ridin' High" treatment, done mostly a cappella against bongo drums). Holland's best moment is a sly rendition of "The Scampi," an obscure café-society spoof Porter wrote for the Princess of San Faustino that he later revised for a more general audience as "The Tale of the Oyster." It, of course, is presented as an actual song rather than an expression of Linda's emotions and/or character.
Director Ben West, who did a fine job staging his reduction of "How Now, Dow Jones" in the New York International Fringe Festival earlier this year, takes the check. Except for keeping Holland front and center, there's not much else for him to do.


Presented by 150 Productions at the Triad Theater, 158 W. 72nd St., NYC. Oct. 28–Nov. 21. Wed., 8 p.m.; Sat., 9:15 p.m. (212) 352-3101, (866) 811-4111, or www.theatermania.com.