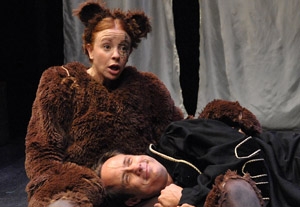 Who needs this play? It's not a question I often ask, as playwrights are—and should be—free to speculate, fantasize, rearrange, and otherwise alter any material they like, even the real-life story of someone prominent. But Alan Turing not only deserves better; he's had much better. Hugh Whitemore's 1986 play "Breaking the Code" succeeded in the West End and on Broadway. The BBC and PBS subsequently joined forces on a 1996 TV version, which was then commercially released on videotape. Each iteration starred Derek Jacobi, who also had a hand in the play's dramaturgy.
Whitemore and Jacobi brought to vivid life the then largely forgotten British father of modern computing, achieving a neat balance between their subject's professional triumphs and tortured personal life. Turing not only broke the most crucial Nazi code during World War II; he also invented the Universal Turing Machine, the template for all future computers. Bravely, he refused to deny his homosexuality at a time when all around him were still in the closet, before that term was in general use. Turing paid the price for his honesty: In 1952 he was arrested for sodomy, lost his security clearance, and was sentenced to chemical castration. Two years later, at the age of only 41, he killed himself. It took 55 years for the British government to issue an unequivocal apology.
Why Snoo Wilson thinks this is appropriate subject matter for a vulgar comedy is beyond me. The bear of Wilson's title is an anthropomorphized version of the childhood teddy Turing kept with him into his adult life, one of the more endearing aspects of his awkward social life. But Wilson's fluffy brown bear (played by Tara Giordano) isn't so much electric as afflicted with ADD. She acts as Turing's constant companion, sounding board, and adviser, even leading him into a drag show during a visit to New York and later half-heartedly trying to talk him out of suicide.
The play opens with comic caricatures of Winston and Clementine Churchill (Peter B. Schmitz and Nina Silver). He is painting a landscape, and she is delivering the news of Turing's death. The British prime minister always credited Turing's breaking of the German code as being the turning point in World War II, but here Clemmie inexplicably says she never heard of Turing. These characters then disappear forever as Wilson's play flashes back to dwell too long on Turing's troubled childhood, public-school days, and university career. The actors do reappear, however, as eight members of the 10-person cast play a total of 22 characters, many of them marginal and frivolous. It's Act 2 before we get to hear much about Turing's real work as a mathematician.
Too much of the show is written and played for cheap laughs, with director Cheryl Faraone complicit in the circus. Rising somewhat above the fray is Alex Draper as Turing; he is frequently touching and real in the role, even as the sideshow whirls about him. Draper borrows Jacobi's trademark stammer for Turing's unscientific conversations, while speaking perfectly clearly when Turing is explaining complicated subject matter. This bifurcated speech works well in humanizing the man. But then, it did in 1986.
Presented by PYP/NYC (Potomac Theatre Project) in association with Middlebury College
at Atlantic Stage 2, 330 W. 16th St., NYC. July 13–Aug. 1. Schedule varies. (212) 279-4200 or www.ticketcentral.com.