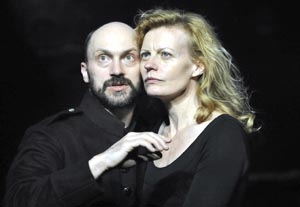 One of the beauties of Shakespeare is that his works can accommodate traditional stagings and more-conceptual interpretations. In just one week, New York has witnessed a largely straightforward production of "Macbeth" from Theatre for a New Audience and a more abstract version from the British troupe Cheek by Jowl at the Brooklyn Academy of Music. Both bring out different qualities in the Scottish play and are equally riveting. My colleague Erik Haagensen covered the TFANA production last week and found it "electrifying." Cheek by Jowl director Declan Donnellan took a totally different route and also succeeds in vivifying the twists and turns of the title tyrant's maniacal rise to power and subsequent destruction.
Donnellan sets his production in designer Nick Ormerod's spare fog-bound purgatory, the only set pieces being some wooden boxes. Judith Greenwood's stark lighting creates nightmarish pools of illumination emphasizing the lonely internal struggles of the characters. All of the smaller roles, including the three witches, are shared by the company, who are dressed by Ormerod in simple black T-shirts and pants. They move in tightly choreographed patterns and play Catherine Jayes' eerie mood music on a violin and drums, creating a sort of ritualistic group dance to tell this tale of overweening ambition and cruel destiny.
Will Keen's Macbeth is an ordinary-looking fellow: bald, short, and stocky. This is an average guy suddenly thrust along the path to irresistible temptation by the predictions of the weird sisters, here represented by disembodied voices. Instead of the usual charismatic, ambition-fueled thane, Keen gives us a midlevel manager suddenly thrust into the CEO position. The possibility of achieving the Scottish throne drives this ordinary Joe almost around the bend. Keen brilliantly carries through this edge-of-sanity condition in an intense and shattering performance. Anastasia Hille's Lady Macbeth is equally compelling. Attired in a sexy black shift, with her crazy blond hair askew, Hille painstakingly documents the lady's descent from cold-blooded schemer to conscience-plagued madwoman. When this couple gets together, it's scary good, as they circle each other like wild animals, attracted by and frightened of each other.
There are numerous other ingenious touches, such as making King Duncan (David Collings) blind and thus even more vulnerable to the Macbeths' treachery and staging the battle scenes with mimed weapons. The cast enacts the grisly battlefield deaths with such specificity, it's 10 times more horrifying than any gory action picture. Muscular support is provided by David Caves' heroic Macduff and Ryan Kiggell's even-keeled Banquo, both counterbalancing Macbeth's barely contained neurosis.
The only aspect of this "Macbeth" that doesn't work is a punk-rock female porter with a crush on Macduff. Played by Kelly Hotten with a broad Scottish accent and comic manner, this buffoonish clown seems to have wandered in from another production. While all the other characters exist in a nonspecific void, this porter is wheeled on in a prop-heavy cubicle complete with phone, keys, modern magazines, and an airport-security metal detector, each employed for an obvious sight gag. The role is traditionally used for comic relief, but Donnellan makes her such an obvious laugh-getter out of sync with her surroundings that she sticks out like a sore thumb. Fortunately, it's the only off note in an otherwise pitch-perfect production.
Presented by Brooklyn Academy of Music at the BAM Harvey Theater, 651 Fulton St., Brooklyn, N.Y. April 5–17. Tue.–Sat., 7:30 p.m.; Sun., 3 p.m. (Additional performance Sat., April 16, 2 p.m.) (718) 636-4100 or www.bam.org. Casting by Siobhan Bracke.