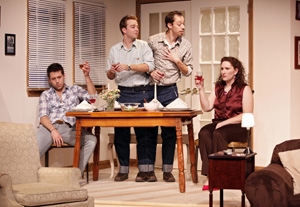 Conjoined twins Benjie (Alex Anfanger) and Max (Kevin Thomas Collins) are planning to end their loneliness by proposing to their girlfriend Jessica (Maia Madison) in Jay Bernzweig's "Made in Heaven"—that is, until Benjie decides he can't live in hiding anymore and comes out as gay, begging for the chance to use the penis he shares with Max to explore his sexuality with hustler Gilbert (Matthew Bondy). But Jessica has a complicated past with Gilbert. Hilarity ensues, provided you've never before seen a sitcom.
Bernzweig crams his script with pratfalls and misunderstandings and secret alliances, but the result feels overstuffed. The premise cries out for a swift and stripped-down approach. To the credit of the cast, under Andrew Shaifer's direction, everyone on stage commits totally to the material. Jokes that could land with a thud earn a softer set-down thanks to the actors' dedication, adding a surprising grace to the hectic and often shrill plot. Bondy in particular has no qualms about serving art by repeatedly stripping down to tight boxer briefs (though with his body, he shouldn't have any qualms), allowing his package to become a fifth character. And Anfanger has a sweetly serious demeanor that makes Benjie's sudden discovery of lust both funny and touching.
But just when we've settled down to a mediocre slapstick comedy—Collins and Anfanger work their three-legged jeans as hard as they can—Bernzweig veers into serious territory as the grand sexual experiment his characters have undertaken falls apart around them. Nothing that precedes the final scene has prepared us for this sudden about-face into seriousness, and so the melancholy of the play's end feels forced and unearned. Benjie and Max deserve better than the self-obsessed Jessica and the selfish and cruel Gilbert. And the actors deserve better than a script that falters so badly in the clinch.

Presented by Barbara Ligeti, Andrew Shaifer, and Victor Syrmis at SoHo Playhouse, 15 Vandam St., NYC. Nov. 2–Dec. 7. Mon., 7 p.m.; Wed.–Fri., 8 p.m.; Sat., 7 and 10 p.m.; Sun., 3 and 7 p.m. (212) 691-1555, www.theatermania.com, or www.sohoplayhouse.com.