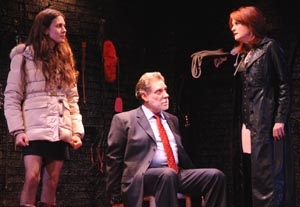 Leslie Ayvazian's new play deserves an audience, but the one at the performance I saw isn't the one it needs. I don't think confusion is a factor:
Make Me
is a frisky comic fugue about three couples battling for sexual and emotional dominance, and while all three stories unfurl simultaneously with dialogue intersecting, it's easy to trace what happens. Rather, the noticeably audible body shifting during the performance suggested to me that the Atlantic's audience found it all superfluous. Rarely should critics report audiences' reactions, but in the packed post-show elevator, one patron did yell "That was crap!" to no one in particular. Others agreed.
They're all wrong. Though it could use pruning,
Make Me
is actually rather clever, staged by Christian Parker with a lot of artful balance. In the initial tale, wife Connie (Jessica Hecht), in a studded collar, bustier, and leather boots, first tries to play dominatrix with her husband, Eddie (Anthony Arkin), handcuffing him to a chair as she departs for a lesson in S&M "on the Lower East Side." There, she's apprenticed to Mistress Lorraine (Candy Buckley), whose chief client, Phil (Richard Masur), is mayor of the unidentified town.
Nosy neighbors Sissy (Ellen Parker) and Hank (JR Horne), both seniors, pop over and find Eddie handcuffed. Sissy makes him breakfast—how can he eat?—and it's never explained how they got into the home in the first place. Later, back in their own home, the now-inspired Sissy tries light S&M play with Hank using clothesline and military metaphors.
True, Ayvazian's evasion of reality is a problem. What town is this? Is the bearded Masur supposed to be Michael Bloomberg? Why, midway through his session with sadistic Miss Lorraine, is she suddenly sentimental, almost romantic? Did Eddie agree to play S&M games with Connie or not? Why, after Connie returns and frees him from his shackles, does he both battle her and submit to her? Why is Hank clueless about Sissy's flirting?
Narrative uncertainties aside, the actors seem to have a ball. Hecht, her hair ever interfering with her expressive face, finely etches Connie's internal conflicts, caught between pleasing herself and Arkin's cynical husband. Buckley, whose sweeping red bob contrasts with her black leather corset and tights (how much fun did costume designer Theresa Squire have?), cracks whips like a pro. Largely bound or gagged, Masur's eyes fill in at least a few of Phil's many blanks. And despite the amorphousness of Sissy and Hank, Parker and Horne salute the idea of senior sex with style.
Presented by Atlantic Theatre Companyat Atlantic Stage 2, 330 W. 16th St
.,
NYC
.
May 31
–
June 14. Tue
.–
Sat
.,
7:30 p.m
.;
Sat. and Sun
.,
2:30 p.m
.  (
212
)
279-4200 or www.ticketcentral.com
.
Casting by MelCap Casting
.