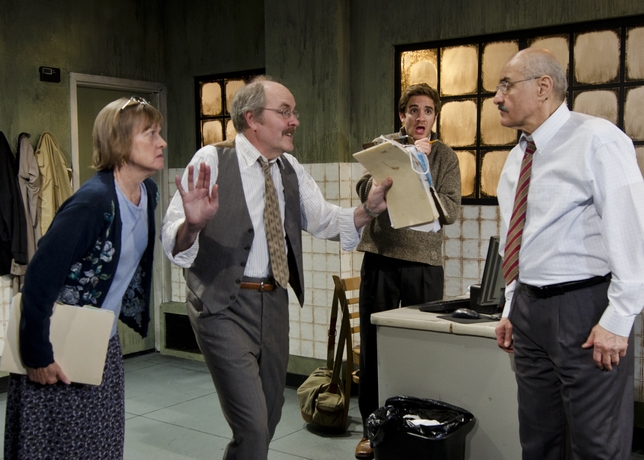 On his blog, www.newyorkgritty.net, writer Mike Vogel calls his play "March Madness" a "comedy with heart." "I refuse," he adds, "to use the word dramedy." However he defines it, Vogel has written a consistently entertaining script, and it's being given a top-notch production by Abingdon Theatre Company under the direction of Donald Brenner.
The show offers a knowing portrayal of some smart people toiling away on the lower rungs of journalism, grinding out advertiser-dictated copy to fill the pages of a sheet called Drug Store Times. There's Maury, the gruff but empathetic veteran newsman, an ex-New York Times staffer forced by economics to keep working in trade-journal hell at 66. At the next desk is Kyle, a young reporter who's put aside the writing of a book to support his wife and baby daughter. Kim is the old-maidish copyeditor, constantly questioning whether the staff will ever receive the vaguely promised raise she needs to care for her ill sister. Overseeing them is ineffectual editorial director Herb, in thrall to company owner Donald, whose only presence is as an imperious voice heard over the speaker of Herb's cell phone. A more palpable nemesis is the smug, insensitive ad salesman Nick, whose frequent forays into the editorial department are to assure that advertisers are kept happy.
The plot turns and depictions of putting out a magazine aren't always totally credible. Still, Vogel makes the frustrations and dreariness of this particular workplace so vivid that we're willing to accept that nearly 50 employees of Donald's string of trade journals would put up $5,000 each to participate in the office's annual March Madness college basketball pool. In a burst of inspiration after salaries have been cut, Maury, who manages the pool, has raised the ante from the usual $5 to provide the one lucky winner with "walk-away money."
Vogel keeps most of this comically buoyant, aided by Brenner's machine-gun-paced direction, worthy of "The Front Page," and the beautifully honed characterizations of the five-person cast. Tom Mardirosian's Maury is a commanding figure, gaining laugh-inducing mileage from the guy's expletive-filled sarcasm while blending it with hints of a deeper and caring persona. As Herb, Brad Bellamy elevates the evasive response and stammer to an art form, whether being harangued by Donald or questioned by his underlings about such things as overdue Christmas bonuses.
A. J. Cedeño is appealing as the well-mannered, Tums-taking Kyle, who finally explodes under the stress of his job, while Lucy McMichael gains our sympathy as the tremulous Kim. Mark Doherty is appropriately despicable as Nick, whose fury when a typo loses a big advertiser is frightening. Laura Crow's smartly chosen costumes further help define these people, as do the worn walls and desks of Andrew Lu's set.
Vogel ends his tale on a satisfying but rather abrupt note, but until then he provides a well-crafted 80 minutes of highly enjoyable "comedy with heart."
Presented by and at Abingdon Theatre Company, 312 W. 36th St., NYC. Nov. 4–18. (212) 352-3101, (866) 811-4111, (212) 868-2055, www.theatermania.com, or www.abingdontheatre.org. Casting by Carol Hanzel Casting.
Critic's Score: A-