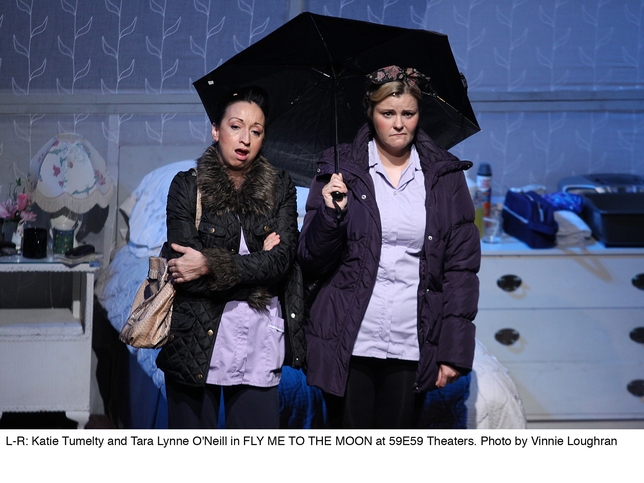 "Fly Me to the Moon," the new comedy by Marie Jones at 59E59 Theaters in the 1st Irish Festival, is just plain fun. It details the misadventures of two healthcare workers who contemplate an illegal act in order to crawl out from under the financial burdens weighing down their lives. The play delights us while making a subtle point about the difficult monetary straits in which many working-class people inNorthern Irelandfind themselves. While it doesn't plumb psychological depths or break new ground in terms of form or content, it does present likable characters humorously scrabbling to get out of a tight but believable dilemma. The result is 107 minutes of smart, enjoyable theater.
Loretta Mackey and Frances Shields help housebound people perform tasks they can't manage on their own, such as going to the bank, cleaning their homes, and using the toilet. They don't particularly like their jobs, but in the harshNorthern Irelandeconomy they're simply glad to be employed. One morning they discover that their charge Davy Magee, an 84-year-old man fond of horseracing and Frank Sinatra, has died in the bathroom. They also discover that he's just won a horseracing bet worth 500 pounds. Plotting how to collect it for themselves, they soon become entangled in a thicket of deception with only one possible avenue of escape, a desperate act that will offer either salvation or ruin.
Katie Tumelty makes Francesa hilarious blend of manipulator and penitent, and Tara Lynne O'Neill, as Loretta, provides a tasty mixture of hesitation and recklessness. Jones directs her cast of two with smooth pacing, never allowing the boisterous action to flag while providing just the right amount of space for a few introspective moments. Niall Rea's simple set makes Davy's faceless, cramped, and lifeless bedroom painfully real.
In many ways the situation depicted in "Fly Me to the Moon" is similar to those found in television sitcoms. The difference is that Jones provides a societal context that makes her characters act out of need and raises the stakes of their actions. In addition, her gift for dialogue particularizes them, detailing them beyond mere type. She does occasionally slip into "bits"—it takes Loretta and Frances far too long to work up the nerve to check if Davy is dead—but most of the time she allows humor to emerge from the women's desires. That honesty is what makes her play fly. It may not reach the moon, but it rises above many of the irony-drenched misery-fests that we call contemporary theater.
Presented by Green Shoot Productions as part of the 1st Irish Festival at 59E59 Theaters,59 E. 59th St., NYC. Sept. 12–30. Tue.–Thu., 7:15 p.m.; Fri., 8:15 p.m.; Sat., 2:15 and 8:15 p.m.; Sun., 3:15 and 7:15 p.m. (212) 279-4200, www.ticketcentral.com, or www.59e59.org.
Critic's Score: B+.