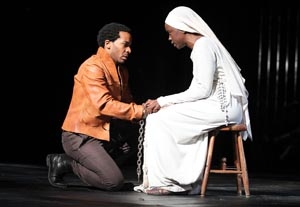 David Esbjornson's production of "Measure for Measure" at Central Park's Delacorte Theater starts on a nightmarish note. Spooky smoke billows in from the wings, jet-black devils out of a Brueghel painting creep on stage, and the virtuous Duke of Vienna awakes from a dream in which his bed is filled with debauched bloody figures. Esbjornson's dark milieu holds promise; he's demonstrating that the Duke and his deputy Angelo's decision to reverse the lax enforcement of the city's laws against licentiousness is prompted by fear of their own suppressed carnal urges.
This subtextual concept is backed up by Elizabeth Hope Clancy's costumes—black, austere garments for the gentry, S&M fetish wear for the lowlife—and John Gromada's ominous original music. Scott Pask's unit set, which is also employed for "All's Well That Ends Well," with which "Measure" is running in repertory, transforms into several gloomy settings, from a forbidding convent house to a frightening prison to a bleak yet oddly beautiful garden. (Peter Kaczorowski's painterly lighting helps out quite a bit here.) But as the evening gets darker at the outdoor theater, the mood turns brighter and we get a light comedy rather than a complex examination of sexual politics. Either approach can work, but Esbjornson has split the difference, leaving us with half of each. After the demons' initial entrance, they make only a few appearances, mainly as evil tempters seducing Angelo to give in to his baser instincts while he maintains an outward show of high morality as he takes over rule of the city in the Duke's absence. I missed those infernal creatures with their sinister grins and sensuous movements.
Despite the somewhat schizophrenic nature of the production, it still largely satisfies, thanks to the strong choices of a powerful cast. Danai Gurira commands the stage as the novitiate nun Isabella, who appeals to Angelo to save the life of her brother Claudio, condemned to die for impregnating the unmarried Juliet. When Angelo demands Isabella's virginity in return for pardoning Claudio, you can read the conflicting emotions on Gurira's eloquent features. Love for a sibling wars with sacred vows of chastity. Throughout the performance, Gurira gives similar full vent to each of Isabella's reactions, thoughts, and decisions, either in speech or expression. Likewise, Michael Hayden intensely charts Angelo's internal battle between passion and piety. Lorenzo Pisoni makes a dynamic Prince Charming as the Duke. Reg Rogers, Carson Elrod, and Tonya Pinkins are delightfully sleazy as denizens of Vienna's sexual underworld.
By illuminating smaller roles in "Measure," performers who play leads in "All's Well" prove the old adage about there being no small parts. Annie Parisse lends a cool dignity to Mariana, a lady rejected by Angelo, while André Holland finds depth and variety in Claudio. Veterans John Cullum and Dakin Matthews are solid pillars of support.

Presented by the Public Theater at the Delacorte Theater, Central Park (enter at Fifth Avenue and 79th Street or Central Park West and 81st Street), NYC. June 30–July 30. Schedule varies. (212) 967-7555 or www.publictheater.org. Casting by Jordan Thaler and Heidi Griffiths.