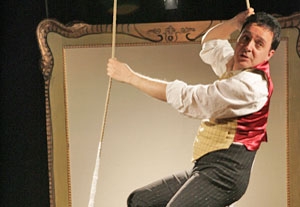 "Merrick, the Elephant Man," devised and written by director Mary Swan and performer Saul Jaffé, begins awkwardly and uncomfortably, with an oily sideshow barker apologizing that many of the oddities in his menagerie will not be shown. Although Jaffé is winsome as he plays the man, who also has in his "collection" the show's title character, the sequence feels like bad standup comedy. The barker urges theatergoers to have compassion for Merrick, and this advice should be heeded with regard to the production itself, because once the barker's spiel has concluded, the play manages moments of stunning and moving theatricality.
Jaffé plays a host of other characters, from Joseph Merrick—not John, as he's improperly been called—to his doctor, his abusive stepmother, and the populace that gapes in repulsion and fascination at him. Jaffé's nuanced characterizations are deft in their physicality: At times he plays Merrick as a contorted creature and at other times as if the man is not suffering from any deformities. Given that Jaffé looks like a 1930s musical juvenile, the choice proves exceedingly effective, allowing audiences to glimpse Merrick's humanity and grasp the horror of his plight.
Swan's exceptionally theatrical staging only enhances the effect of Jaffé's performance. Although she missteps in the overuse of a swing center stage on which the actor drapes himself throughout the piece, the ways in which dress forms—indicating both Merrick and people with "perfect" physiques—are used proves haunting. So too does a sequence in which a childlike drawing projected onto a screen inside a gilt frame (clever production design from Sam Pine) morphs into a microscope slide representing the diseased cells in Merrick's body. With moments such as this, it's easy to forgive the show's less successful ones.
Presented by Proteus Theatre Company, Basingstoke as part of Brits Off Broadway 2009 at 59E59 Theaters, 59 E. 59th St., NYC. Dec. 1–13. Tue., 7:30 p.m.; Wed.–Fri., 8:30 p.m.; Sat., 2:30 and 8:30 p.m.; Sun., 3:30 and 7:30 p.m. (212) 279-4200 or www.ticketcentral.com.