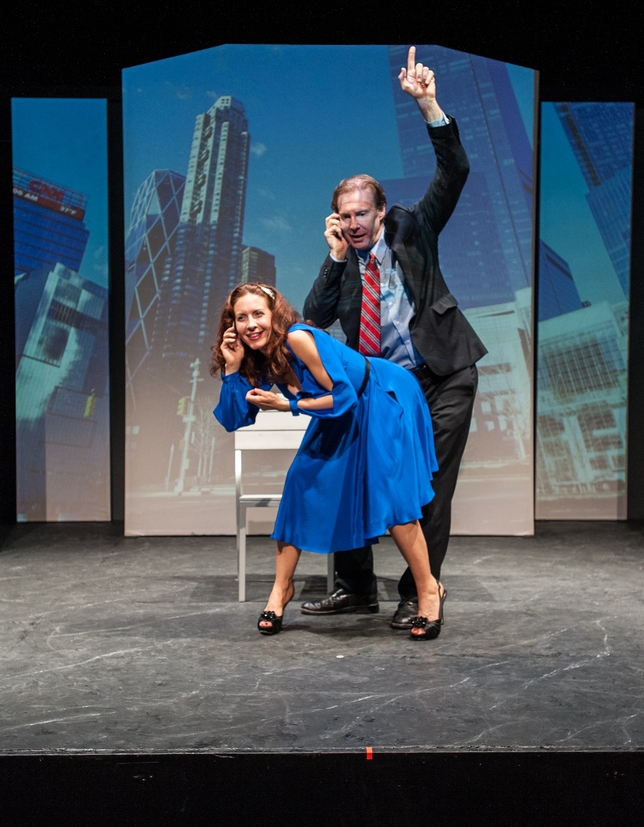 The rather unsurprising thesis of Michelle Clunie's play "Us," that real love doesn't work like it does in the movies, seems to have taken on a life of its own in the play's New York premiere. In this production, directed by Jennifer Gelfer, the live event withers in the face of its silver nemesis
Upstage at the Lion Theatre, scenic designer David Mauer and video and production designer Aaron Rhyne have placed a series of large screens to project either American flags or silent black-and-white film sequences of the play's central couple in a Hollywood romance. Clunie, who plays the heroine, is infectious in her close-ups as a woman in love, laughing in a park or waking up in bed beside her lover, who is played by Jeff LeBeau. Every part of him, from belly to eyelids, is at ease as he watches his feisty girlfriend trample through his apartment. They're a couple any spectator could root for.
Not so the real-life version. When Clunie and LeBeau step onstage to portray the characters in the present, not only is the love story over; so is the actors' chemistry. As the couple, who remain anonymous, tear and claw at each other over one infidelity and broken promise too many, Clunie and LeBeau are disconcertingly awkward. It's as though they've mysteriously found themselves on the same stage and can't figure out what to do with one another. LeBeau, whose character is about to run for the senate, could be auditioning for a Mamet play as he mimics a political shark with a temper and abandonment issues. Clunie seems to be overacting in a Tennessee Williams drama; she's breathless, hysterical, melodramatic, and insincere for each of the play's 90 minutes. If her performance onscreen—or as one half of the lesbian couple in TV's "Queer As Folk," for which she is best known—is any indication, she should be better than this. Costume designer Jes Switaj's overly loud outfit is no help, making Clunie's character look desperate when she should be seeing clearly for the first time.
Also not helping is that as playwright Clunie's interest in the couple is chiefly allegorical. By mapping their love story onto the history of the Obama presidency—they meet during the 2008 primaries and break up as the second election nears—Clunie is representing the spurned love affair between American liberals and their one-time hero. In a didactic flashback in the middle of the play, Clunie's character warns that the cynicism of the right will "infect" the president's supporters no matter what his accomplishments and that he will need supporters, not idealists, if he is to have any success. Clunie's insight speaks to a deep truth about the activist spirit: It is ruthless realism and an unsentimental willingness to inhabit the present that fuel the committed revolutionary. The same lesson is needed in her performance and her play.
Presented by One Pear Productions at the Lion Theatre, 410 W. 42nd St., NYC. Sept. 9–29. Tue. 7 p.m.; Wed.–Fri., 8 p.m.; Sat. 2 and 8 p.m.; Sun. 3 p.m. (212) 239-6200, (800) 432-7250, or www.telecharge.com.
Critic's Score: D+