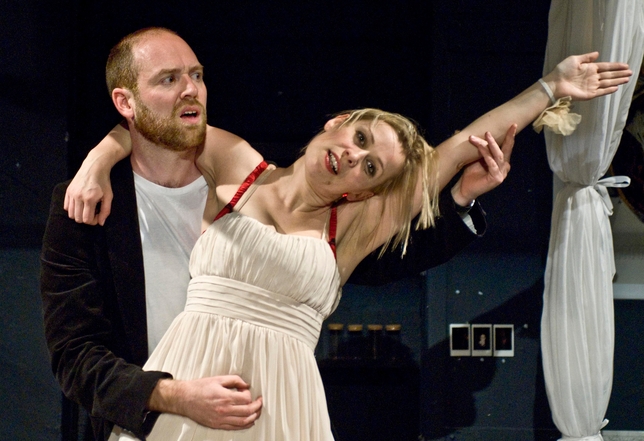 Theatricality as fluid as "Midsummer [a play with songs]" displays can help or hurt the material. Here it helps, but not enough. David Greig's two-hander (he also directed), with music by Gordon McIntyre, a 2012 Edinburgh Festival Fringe hit from that city's Traverse Theatre, boasts a knockout uncredited sound design, richly detailed lighting by Claire Elliot, and a format that allows Matthew Pidgeon's Bob and Cora Bissett's Helena to soliloquize, narrate, interact, sing, play guitar, and wander in and out of reality seemingly at will. It's so meta that it takes us a while to discover that we don't much like Bob and Helena, and we don't care how their one-night-stand-blossoming-into-possible-romance turns out. "Midsummer" is a case of rich theatrical resources lavished on a pair of unlikable losers.
It's also a case of too-frequent telling rather than showing. Sure, fourth walls are collapsing all over town, but "Midsummer" is maybe 80 percent narration (often Bob recounting Helena's previous life experience or vice versa, which neither would know anything about) or interior mental exploration, leaving too little opportunity to see these two as they really are and relating to each other. Both are 35 and in a rut. Bob is an alcoholic errand boy for mobster Big Tiny Tam Callaghan; we also learn, far too late, that he's a father, an irresponsible one whose son is a stranger to him. His one dream in life is to take the ferry from Scotland to Belgium and become a street performer. Helena is, well, we never find out what she does, but she drinks too much, is chronically disappointed in love, carelessly ruins her sister's wedding, and narrates with such breathless speed and in such a thick accent that we can't always keep up. After the two pick each other up in a pub and have bad sex, coincidence keeps throwing them together, and Bob suggests that they blow the stash of cash he's carrying for his boss on a reckless weekend. Why they appeal to each other is never clear and not helped by McIntyre's puny three-chord song fragments, which intone such sentiments as "Love will break your heart in two/But sometimes you want it to," and "It's what I need/It's what I need/It's what I need/It's what I need."
Pidgeon and Bissett aren't ungifted; he does marvelous voices and dialects when he lapses into other characters, and she can convey a lot with a look on the rare occasions when she calms down. Too bad they have to devote so much energy to metatheatrical shenanigans and meaningless aphorisms ("You might think life's a game of poker; the truth is it's a game of patience," or "We all come from the past, and we are all going towards the future"). I'm not spoiling anything by revealing that Bob does make it to the ferry and Helena follows him, though a happy ending for these two seems unlikely and, worse, pointless. They don't need each other. They need therapy.
Presented by the Carol Tambor Foundation at the Clurman Theatre, 410 W. 42nd St., NYC. Jan. 15–26. (212) 239-6200, (800) 432-7250, or www.telecharge.com.
Critic's Score: D+