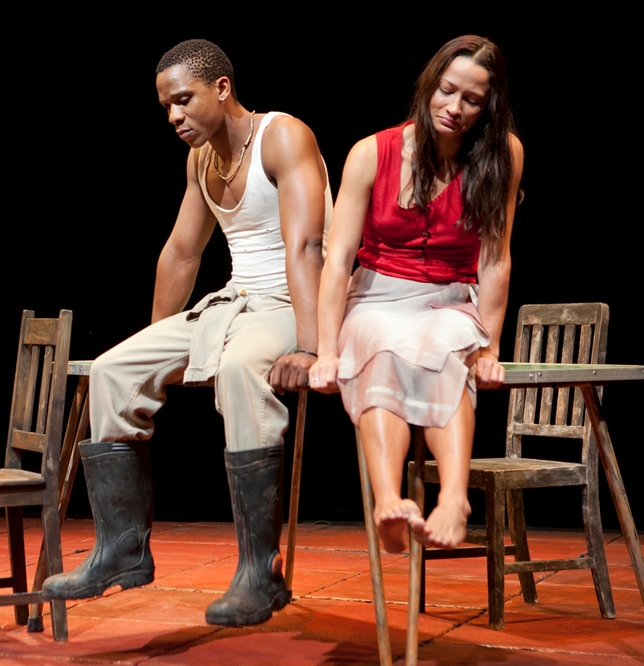 The late-19th-century classic "Miss Julie," by Swedish playwright August Strindberg, is yanked ferociously into present-day South Africa in this galvanizing adaptation by Yael Farber, a native South African writer and director now living in Montreal. With its frank (some might say overwrought) depiction of class struggle and sexual domination, Strindberg's work was a controversial landmark in naturalistic theater. The insidious residue of apartheid—the legal system enforcing racial segregation and white supremacy, both politically and socially, that defined much of South Africa from 1948 until 1994—adds viscerally to the contemporary impact of "Mies Julie." (That's not a typo; "Mies" is Afrikaans for "Miss.")
Farber sets her script in the kitchen of a white-owned farm in a backwater district of the country. Outside, black workers and squatters are celebrating Freedom Day, marking the anniversary of the nation's first post-apartheid elections 18 years earlier. Julie, the daughter of the well-to-do farm owner, moves about aimlessly, sometimes dancing, sometimes stretching out on the kitchen table, flaunting her body in front of John, her father's black manservant, while Christine, John's mother, scrubs the floor. The sexual connection between Julie and John is palpable, as are the inbred class barriers and unhealed psychic wounds from the past. The kitchen becomes a battleground, where chronic hatreds from years of oppression clash with animal instincts, and the potential for genuine love is eventually destroyed in the play's blood-soaked ending.
The production, which comes from the Baxter Theatre Centre at the University of Cape Town and was a hit at this year's Edinburgh Festival Fringe, is high voltage. Hilda Cronje, in the title role, and Bongile Mantsai, as John, give astoundingly brave performances that crackle with energy while taking you deep into the characters. They make the rapidly shifting moods of their combat and longing totally believable. While Strindberg's play has their lovemaking take place offstage, Farber keeps it all onstage, and it's enacted with a breathtaking explosion of ecstasy and savagery. Equally powerful is Thoko Ntshinga as Christine, a woman reluctant to veer from the old patterns of life yet painfully aware what those old ways have cost her.
Along with the immediacy of the performances, Farber gives the tale a sense of ritual. Observing things from the sidelines is a spectral ancestor, played by Tandiwe Nofirst Lungisa, along with two musician-composers, brothers Daniel and Matthew Pencer, providing a foreboding soundscape that ebbs and flows with the intensity onstage, heightened by the moody lighting and bleak set designed by Patrick Curtis. It's telling us that such tragedy is preordained, given the abominable history that shaped it.
Farber's work naturally brings to mind acclaimed South African playwright Athol Fugard, whose art has been dedicated to opposition to apartheid. "Mies Julie" measures up as a bold, fury-filled addendum to Fugard's canon.
Presented by and at St. Ann's Warehouse, 29 Jay St., Brooklyn, N.Y. Nov. 12–Dec. 16. (212) 352-3101, (866) 811-4111, www.theatermania.com, or www.stannswarehouse.org.
Critic's Score: A