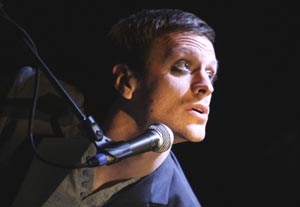 As soon as Raymond Scannell steps upon a stage that's graced only with a baby grand and a mirror, you know that this will not be your usual cheery Irish storyteller. Dressed in a gray T-shirt and suit, wearing no socks, his youngish face featuring kohl beneath his eyes, he is a melancholy Pierrot in modern dress. He tells his story seated at the piano, which he plays with great dexterity, a constant musical accompaniment dramatizing his tale. (Scannell is also the evening's writer and composer.) His story seems to be a cautionary tale of Ireland, about the dangers of not being authentic, told in an ambitious manner that wants to celebrate the voices of Joyce and Beckett. Scannell is also drunk with words, but, alas, for much of the time here he leaves the audience in Finnegan's wake. An Irish phantasma with music, "Mimic" features storytelling that is often shadowy and oblique. It's as if Scannell wanted to cloak his didactic message of the title in tramp's clothing, the better to hide its purpose.
The story, I believe, is as follows: The adopted Julian Neary lives in Dublin with his traditional Irish father, mother, and siblings. One of these is a promiscuous sister, Aoife, of whom he is too fond. There is also a piano, which Julian takes to immediately. Both piano and Julian are then sent to the dank basement, where it's drugs for Julian and sex for Aoife. After Aoife escapes to Manchester, Julian's only friend is his piano. At school, he finds "mimicry the biggest bully breaker, scenarios at lunchtime, adding color to the cold concrete." Julian joins Aoife in Manchester in a filthy commune, which is run by Aoife's domineering boyfriend Conn. Julian gets a musical gig: "new doors, chemical ego, double-dutch courage." When Julian's musical act goes to the United States, Aoife and Conn accompany him. The consequences include incest, suicide, plastic surgery, and transplanted body parts. When Julian, a changed person, finally returns to a Dublin of the future, now "a vast nightmarish barren landscape," he will be hunted by "the fashion police."
Told in short staccato phrases with musical emphases, this surreal narrative is also colored along the way by mimicry. Lending their voices to the telling of the story are Louis Armstrong, Maggie Thatcher, Sir David Attenborough, and TV's Columbo. This hazy theme of authenticity versus imitation is much more succinctly put by Scannell in an extensive program note: "Were we mimicking a Western, consumerist identity at the cost of our own heritage?"
Scannell is a performer of obvious talent, but his experimental storytelling carries the perfume of youthful indulgence, a smokescreen that ironically smells of Irish imitation. On a clearer day we might get a better view of contemporary Ireland, a country Scannell obviously cares about. 
Presented by Irish Arts Center, in association with Performance Space 122,  at Irish Arts Center, 553 W. 51st St., NYC.  March 6–20. Wed.–Fri., 8 p.m.; Sat., 2 and 8 p.m.; Sun., 3 p.m. (No performance Sun., March 13.)  (212) 868-4444 or www.smarttix.com.