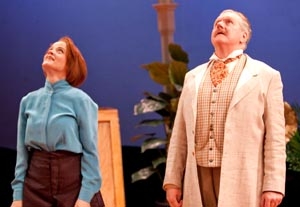 How would one describe the works of George Bernard Shaw without calling them droll? His brand of whimsy, with its perfectly quotable epigrams, just begs for the label. And yet, with that adjective—which we seem to reserve for writers from the British Isles—there's a sense of safe remove, as if smart and silly writing can be nothing more than diverting. Sad to say, most productions of Shaw (and Wilde and Coward et al.) live down to those limits, eliminating the flavor of transgression by assembling barbed morsels into a pleasant but flavorless tea-time snack. How marvelous, then, that the Pearl Theatre Company's production of Shaw's "Misalliance" offers a more full-bodied experience, delivering the funny with a strong dose of the author's subversive politics.
The play's bucolic setting is the Tarleton country estate, where two well-to-do families—soon to be united by the marriage of the lustily capricious Hypathia Tarleton (Lee Stark) to weeping whelp Bentley Summerhays (Steven Boyer)—misbehave in those politely lascivious ways that rich, well-mannered people do. What prevents the proceedings from registering as merely a drawing-room amusement is the appearance of two uninvited strangers, one wielding a gun (a sublime Sean McNall) and the other (a sly Erika Rolfsrud) something far more dangerous: empowered female sexuality.
Dramaturgically, the play could use some pruning. The middle of the first act is full of the sort of plodding plotting that can trap a playwright trying to construct an elegant house of cards. Thankfully, the rest is gangbusters, penetrating gentlemanly and manly honor with a pitch-perfect mix of wordplay and physical comedy. It's no accident that the men derive their inspiration from literature, or that Rolfsrud's buff Polish aerialist (whose lengthy last name provides some easy laughter) not only works the boys into men but then shows them how to use their manhood.
Director Jeff Steitzer (until recently the booming-voiced admiral in Broadway's "Mary Poppins") gets performances that are at once grounded and gleefully, necessarily over the top. This includes wonderfully dry work from Dominic Cuskern as the pragmatic Lord Summerhays, a touchingly tender bit of midlife foolishness from Dan Daily's Tarleton, and knowing, maternal strength from Robin Leslie Brown as his wife. Bradford Cover and Michael Brusasco are also excellent as Shaw's examples of more-traditional, square-jawed masculinity.
Would that most contemporary critiques were this droll.
Presented by the Pearl Theatre Company at New York City Center Stage II, 131 W. 55th St., NYC. Dec. 13–Jan. 24. Tue., 7:30 p.m.; Wed., 2:30 p.m.; Thu. and Fri., 7:30 p.m.; Sat., 2 and 7:30 p.m.; Sun., 2:30 p.m. (No performance Thu., Dec. 24; additional performance Mon., Dec. 21, 7:30 p.m.) (212) 581-1212 or www.nycitycenter.org.