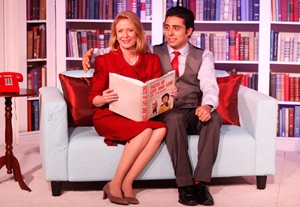 "Miss Abigail's Guide to Dating, Mating, & Marriage" seems to have been designed solely as a diverting way for a gaggle of young single women (say, a bachelorette party) to spend an evening. The show includes a former child star dishing romantic advice, a handsome Latin man, mildly racy comedy, silly props, audience participation—and a cocktail lounge. Need I say more?
The play stars TV actor Eve Plumb (she played Jan on the 1970s superhit "The Brady Bunch") as dating advice guru Miss Abigail and Broadway actor Manuel Herrera ("Legally Blonde") as Paco, her charming Latin assistant. With a slightly stuffy upper-class accent, Miss Abigail relays dating tips she's gathered together over the years from a collection of dusty, decades-old books. Topics range from the importance of personal grooming to "how to make a perfect kiss." Paco, meanwhile, handles the props, pulls audience members on stage, and delivers a river of sharp bons mots. The story, what there is of it, revolves around Paco's flirtation with the unsuspecting Miss Abigail, with whom he is smitten.
Written by Sarah Saltzberg and Ken Davenport, who also directs, the play is a series of sweet, colorful skits, such as a hilarious game show called "Love, Lust, or Stalking." Audience members are encouraged to submit questions beforehand, which Miss Abigail answers (albeit briefly). But the show never hits a consistent groove. Aside from a bizarre little sex-ed film, most of the comedy is very tame, never straying into dark or even mildly controversial subjects.
Smartly, director Davenport focuses on engaging the audience, which both actors do fairly well and which helps to maintain an upbeat atmosphere. On the downside, the romantic chemistry between the two leads is not very tangible. And Plumb, though a very capable and likable actor, doesn't quite have the charisma to carry an entire show. Herrera, on the other hand, does; without much effort, he often steals much of the (mostly female) audience's attention away from the play's better-known lead.

Presented by Ken Davenport at Sofia's Downstairs Theater, 221 W. 46th St., NYC. Opened Oct. 24 for an open run. Wed., 2 p.m.; Thu. and Fri., 8 p.m.; Sat., 2, 5, and 8 p.m.; Sun., 3 and 7:30 p.m. (877) 964-7722 or www.missabigailsguide.com.