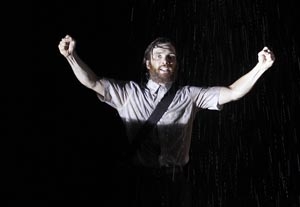 The descent into madness has been a fertile theme for playwrights since the Greeks and will continue to be one as long as our spiritual aspirations battle our inner demons in an indifferent universe. Writer-director Enda Walsh and actor Cillian Murphy take their turn with "Misterman," a Landmark Productions/Galway Arts Festival offering at St. Ann's Warehouse. The result is a one-man 90-minute explosion of lush language, puzzlelike plotting, and bravura acting that satisfies our desire for serious, full-blooded theater but provides little balm for our souls.
Set in Inishfree, Ireland, "Misterman" recounts the decline of Thomas Magill, a would-be messenger of God. Thomas lives in an abandoned factory that reverberates with voices, some blaring from tape recordings of his fellow citizens and some echoing within his mind. The most persistent voice, however, is his own. Without leaving the factory, he enacts the fateful events of the past few days in an attempt to make sense of his actions in response to them. Among them are his fruitless attempts to guide those around him toward godliness, his killing of a dog, and the beating he receives from the dog's owner.
The most important incident is his encounter with a young girl named Edel, whom he takes to be an angel until he realizes that she spends time with him only because she was dared to by her friends. During a visit to an imaginary dance hall, Thomas plays for the crowd a cassette that contains his murder of Edel. As the hall fades away, Thomas realizes that he is utterly alone. No one is listening to him. In fact, no one has ever truly listened to him.
Under Walsh's skillful direction, Murphy delivers a crackling performance that humanizes Thomas but never excuses his evil acts. Together they take what in lesser hands would have been a pathetic or repugnant figure and make him a Beckettian Everyman.
Set designer Jamie Vartan transforms the entire northern end of St. Ann's Warehouse into a shadowy, ominous space that serves as Thomas' home, as a reflection of his disordered mind, and as a general symbol of a pointless existence. Gregory Clarke's sound design—laced with disembodied voices, howling dogs, and ear-splitting thunderclaps—conjures a reality as jarring to us as it must be for Thomas.
Walsh's vision in "Misterman" is a dark one, and to his credit he doesn't try to make it palatable with a sentimental moral or a final, phony sliver of hope. Theatergoers willing to follow him and Murphy on this excursion to the edge of the abyss will go home challenged and, to some degree, enriched. 
Presented by St. Ann's Warehouse and Imagine Ireland at St. Ann's Warehouse, 38 Water St., Brooklyn, N.Y. Dec. 4–22. Tue.–Sat., 8 p.m.; Sun., 2 and 7 p.m. (No performance Tue., Dec 13; additional performance Thu., Dec. 15, 2 p.m.) (212) 352-3101, (866) 811-4111, www.theatermania.com, or www.stannswarehouse.org.