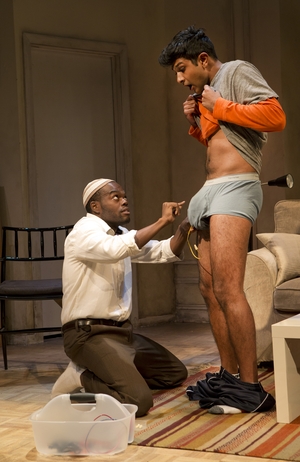 "The wounds are all surface." So reads the stage direction that begins Act 2 of Jon Kern's "Modern Terrorism, or They Who Want to Kill Us and How We Learn to Love Them," referring to the aimless American pothead whom three Arab terrorists take hostage at the Act 1 curtain when he discovers who the inhabitants of the apartment beneath his really are. It's an apt description of this depressingly shallow comedy, which unaccountably won the second Laurents/Hatcher Foundation Award.
Qala (William Jackson Harper), Yalda (Nitya Vidyasagar), and Rahim (Utkarsh Ambudkar) are three young Arabs (Somali, Pakistani-American, and Pakistani, respectively, and all Western-educated) sharing a Brooklyn apartment while plotting a suicide bombing on the observation deck of the Empire State Building. The naive, childlike Rahim is the intended sacrifice, while Qala fancies himself a successor to Osama bin Laden. Yalda's Pakistani husband was killed by American soldiers on her wedding day. When a bomb part ordered on the Internet is delivered to the apartment above, Jerome (Steven Boyer) enters the picture by bringing the package downstairs. The lonely, needy nerd bonds with Rahim sharing some marijuana and pursues the friendship, to the chagrin of Qala and Yalda. In Act 2, Jerome is initially forced into aiding the terrorists, but the disaffected 99 percenter soon becomes an enthusiastic participant. Needless to say, it all ends badly.
Kern seems to think that it's transgressive simply to treat the terrorists as ordinary people rather than the summation of evil. Unfortunately, his paper-thin first act plays like a repurposed episode of "Three's Company." None of the characters escapes the sitcom setup, so when Act 2 makes an attempt to go in darker and more-interesting directions, there's no foundation to support the effort.
Peter DuBois' bouncing direction does nothing to mitigate the script's inadequacies. The capable four-person cast does its best with what it's given. Ambudkar imbues Rahim with an appealing sweetness and vulnerability. Harper looks for laughs in Qala's need for control and stature that's rooted in personal insecurities. Vidyasagar is a focused, determinedly impassive Yalda, though she can't negotiate the cheap running gag of Yalda trying to shoot Jerome and always being interrupted. In a variation on comic types he has already played—superbly—in such shows as "Hand to God," "The Ugly One," and the Encores! concert version of "Gentlemen Prefer Blondes," Boyer pulls out the stops, but the performance carries the whiff of familiarity.
Set designer Alexander Dodge encases his appropriately scruffy, barely lived-in apartment in looming brick walls with rectangles cut in them, which lighting designer Russell H. Champa sets blazing in a host of hues during scene-change blackouts. The device doesn't seem sufficient reason for the wraparound until all comes clear at the climax, which is a bit long to wait for the payoff.
When Arthur Laurents asked Stephen Sondheim to write the lyrics for "West Side Story," Sondheim's concern was "I've never even known a Puerto Rican." Substitute "terrorist," and I have a hunch it applies here.
Presented by and at Second Stage Theatre, 305 W. 43rd St., NYC. Oct. 18–Nov. 4. (212) 246-4422 or www.2st.com. Casting by Caparelliotis Casting.
Critic's Score: D