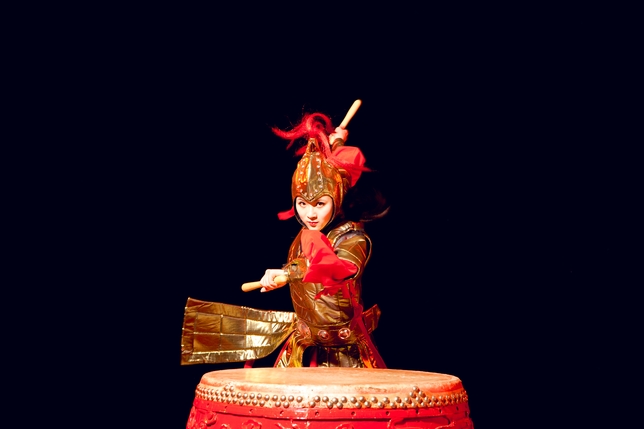 The Red Poppy Ladies, an all-female percussion troupe from China who have performed in venues ranging from opera houses to the closing ceremonies of the 2008 Olympic Games, have brought their retelling of the story of Mulan, a Chinese girl who pretends to be a warrior, to the Peter J. Sharp Theater—and New York should be glad they did. More of a performance piece than a musical, this 70-minute spectacle will appeal to those who delight in dazzling displays of individual and ensemble drumming, precision choreography, and all manner of rhythmic virtuosity.
"Mulan the Musical" recounts the same 1,600-year-old folk tale made famous by the 1998 Disney animated film. It follows the adventures of Mulan, a girl who takes her ill father's place when he is called upon to serve in the emperor's army. Disguised as a boy, she becomes an acclaimed warrior, receiving precious gifts from the emperor, including a princess to marry, until she finally reveals her identity.
The action is broken into 13 distinct sequences, each of which illustrates a scene from Mulan's story and features a style of drumming appropriate to the scene. Some are simple, while others are symbolic. In "At School," Mulan and her classmates recite lessons and then proceed to tap out complex patterns with their pens. Mulan and her fellow warriors pound furiously on large tub drums in "Attacked," the thundering sounds they generate becoming powerful embodiments of warfare. Each sequence is introduced by a caption describing what transpires in it. Projected onto the back wall of the set, these captions constitute the chief narrative elements of the show, as there is almost no dialogue.
No single person is listed as author, indicating that "Mulan the Musical" is a collaborative creation by the Red Poppy Ladies. The lack of a playwright accounts for the skimpiness of the drama and characterizations, but it doesn't interfere with our enjoyment of the show as an event, which is surely its chief aim.
Du Qianqian plays Mulan with a mixture of playfulness and fury, mixing drumming prowess with genuine acting ability. The other 11 members of the ensemble are splendid musicians, but they are afforded little opportunity to emerge as individuals. Director-choreographers Zhou Li, Lin Shuijing, Ma Lin, Ying Li, and Chen Zhenghe create wonderful stage pictures. Ma, Liu Qian, Zhang Junpeng, Wang Han, Dong Gang, and others provide the music, a mix of Chinese and Western elements.
"Mulan the Musical" is more than just an all-female "Stomp" that tells a classic story. It's also a harbinger of the exciting artistic hybrids that are sure to result from the blending of Western and Eastern culture. I look forward to more of them and to the next Red Poppy Ladies presentation.
Presented by William Meade at the Peter Jay Sharp Theater, 416 W. 42nd St., NYC. Dec. 19–Jan. 13. (212) 279-4200 or www.ticketcentral.com.
Critic's Score: B+