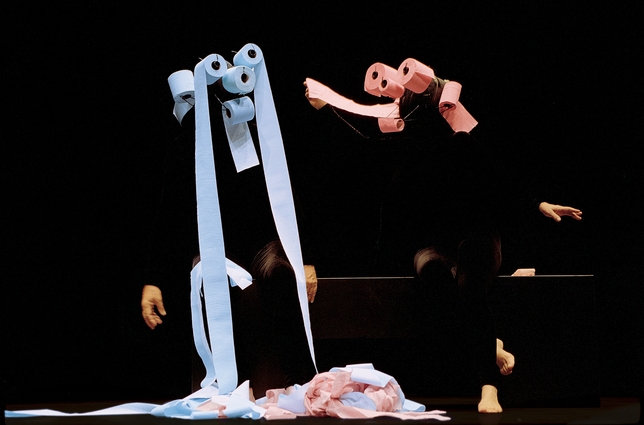 There's a point during "Mummenschanz," the show by the world-renowned Swiss theater troupe that came to town this week to celebrate its 40th anniversary, when you just have to wonder, "Why?" I reached that point when two people with masks made out of rolls of toilet paper came onstage and started miming a love story. The blue and pink bathroom tissue slowly unraveled over the course of the act, and the stage was left looking like a high schooler had TP-ed it. (Why didn't the stage management clean all of it up afterward?) While simple and somewhat creative, the evening's repetitive acts eventually wore down my imagination.
The company, which is led by artistic directors Floriana Frassetto and Bernie Schürch, has some impressive bits. Two performers mold clay into masks directly onto their faces without the aid of mirror. In the show's signature piece, a Slinky-like tube that looks like a drainage pipe flip-flops around the stage. While mildly entertaining, the feat seems to be more about how the performer is breathing in the practically sealed tube than the movement itself.
The performers—Frassetto, Philipp Egli, Raffaella Mattioli, and Pietro Montandon—remain faceless throughout this entirely physical, completely nonverbal show. The acts jump from one to another without any sort of thematic connection, and though gimmicks elicited giggles from the many children in the audience, even the high-pitched laugher started to temper over the more-than-two-hours duration. Technical directors and lighting designers Jan Maria Lukas and Dino de Maio contribute somewhat amusing work in a bit with an electrical outlet, but otherwise their designs are largely plain.
One thing I will give the show is that I have never seen anything like it. However, unlike other circuslike imports—such as the hugely successful "Traces," which sent young gymnasts flying through the air—Mummenschanz doesn't bring any awe-inspiring displays to the table. Maybe something was simply lost in translation.
Presented by Mummenschanz Foundation at NYU Skirball Center for the Performing Arts, 566 LaGuardia Place, NYC. Dec. 12–Jan. 6. (212) 352-3101, (866) 811-4111, www.theatermania.com, www.nyuskirball.org, or www.mummenschanznyc.com.
Critic's Score: D-