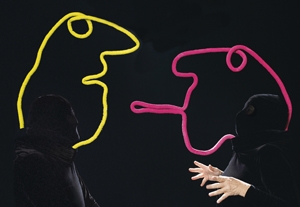 New Yorkers may remember "Mummenschanz" from the company's 1977-80 run on Broadway. The Swiss trio's unique brand of "nonverbal theater of performance and transformation" -- using a variety of inventive large puppets and abstract costumes in short humorous skits -- was something relatively new on the American scene, even though the troupe had formed five years earlier in Europe.
Flash-forward more than 30 years and the group's makeup has changed. Founding member Andres Bossard passed away in 1992. Co-founders Bernie Schürch and Floriana Frassetto still perform, but the trio became a quartet with the addition of Pietro Montandon and Raffaella Mattioli. However, their performance style is not as revolutionary as it once was. In a world in which Blue Man Group and Cirque du Soleil are staples of the mainstream, the troupe's abstract puppets seem oddly antiquated.
That doesn't mean "Mummenschanz" is not entertaining. The performers are able to create a myriad of fun theatrical scenarios using simple concepts, such as an inchwormlike tube that catches a floating balloon or two stick figures fighting it out. A green pod with a tremendous tongue tries to eat a bit of fluff and spits it out.
In one famously clever bit, two characters have faces with features made out of rolls of toilet paper. At only 70 minutes, the family-friendly show is able to keep pace with the short attention span of youngsters, who seem to get the most joy out of watching these wacky skits brought to life. However, for adults the show starts off funny but begins to drag about halfway through. Many of the ideas seem undeveloped, lacking the understated wit necessary to appeal to older viewers.
For fans of theatrical wizardry, it's amazing to watch how the cast and technical director Jan Maria Lukas make such great use of theatrical lighting, especially in employing only one or two sources to great effect. And in a possible case of the teacher being mimicked by the student, one skit involving a character with tubes for arms and legs is strikingly similar to a bit seen last year in the New York production of Cirque du Soleil's "Ovo."
Presented by Mummenschanz Foundation at NYU Skirball Center, 566 LaGuardia Place, NYC. Dec. 21-Jan. 8. Schedule varies. (212) 352-3101, (866) 811-4111, www.theatermania.com, or www.mummenschanznyc.com.