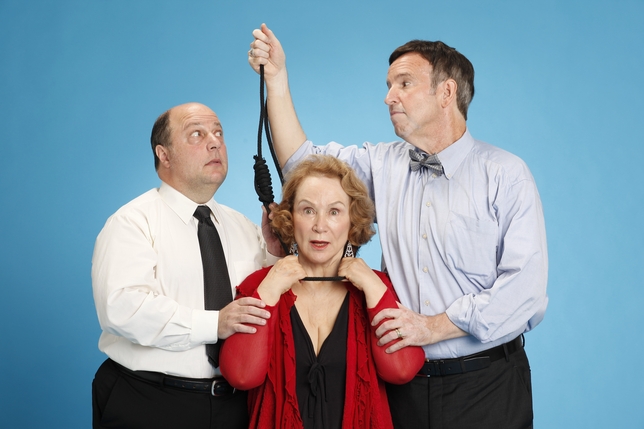 Ron Clark and Sam Bobrick's "Murder at the Howard Johnson's" ran for all of four performances on Broadway in 1979, and you'll see why at once in this snug staging at the Studio Theatre: It's trite and shallow, doing anything for a laugh. That said, the trite, shallow laughs come pretty consistently in this cozy revival, crisply directed by Eddie Lew and amiably acted by a company of three actors whose enthusiasm compensates for their occasional lack of farcical expertise.
On a budget of nothing, set designer Abbey Dehnert convincingly conjures the awfulness of a Howard Johnson's motel room circa "Saturday Night Fever": brown touch-tone phone, gray industrial carpeting, faux wood paneling, characterless wall print. (One error: a twin bed that should be a double, and it's lopsided, and it creaks.) Here, amoral Arlene (Rutanya Alda) and her dentist lover, Mitchell (Frank Gauthier), will attempt to off her used-car salesman husband, Paul (Allan Greenberg), though in subsequent scenes the alliances will shift rapidly and the intended victim will change. The comedy is that of self-centeredness, with each character starring in his or her own mental movie and unable to see past his or her overgenerous self-image and immediate needs.
Arlene is bored with Paul, who is dull and petty but adores her. Paul is embittered after a lifetime of disappointment. Mitchell inexplicably fancies himself an irresistible ladies' man. Along the way are bad-toupee jokes, funny-underwear jokes, loud-sport-jacket jokes, fart jokes, and much slapstick. Lew has his actors facing downstage and yelling a lot, but with this kind of sub–Neil Simon humor that's not an inappropriate choice. (When the playing got too rambunctious, I tried to imagine the original cast—Joyce Van Patten, Tony Roberts, and Bob Dishy—and it got funnier.) Lew even tries to wring laughs out of a lengthy set change, which is perhaps ill-advised.
Clark, who co-wrote some of the lesser Mel Brooks films, and Bobrick, who penned some of the better '60s sitcoms, aren't deep, but they know the mechanics of farce. The cast's timing could be adjusted (Greenberg tends to react too fast, while Gauthier is too slow), but the actors seem to enjoy working together and do physical comedy well. Alda brings surprising variety to Arlene's desperate need to be loved, Gauthier has Mitchell's smug narcissism down pat, and Greenberg, when he's not reminding you of Danny DeVito, amusingly evokes Jon Lovitz.
I'm a little embarrassed to have enjoyed this "Murder at the Howard Johnson's" as much as I did, but these are worrisome times, and a cheap laugh is a cheap laugh.
Presented by AG Productions at the Studio Theatre, 410 W. 42nd St., NYC. Sept. 13–Oct. 7. (212) 239-6200, (800) 432-7250, or www.telecharge.com.
Critic's Score: B