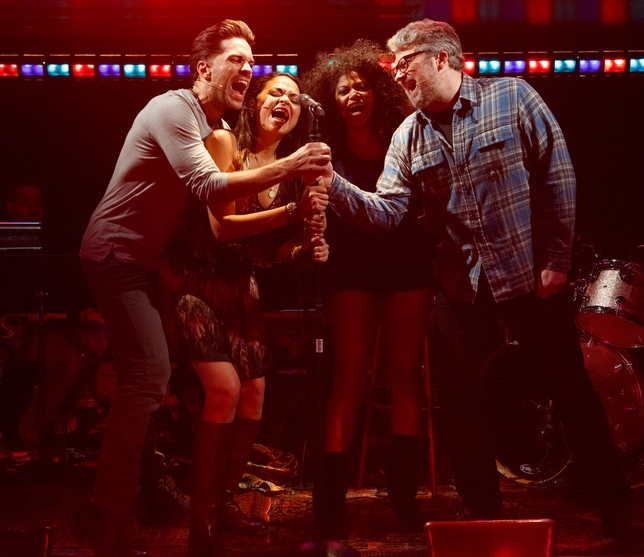 Manhattan Theatre Club is trying to get young people to the theater, and it's going to get them, in reams. It's not that Julia Jordan and Juliana Nash's musical appeals only to young people, necessarily, though the loud rock score and New York setting don't hurt. What Nash and Jordan have written is essentially an almost plotless song cycle. But thanks to director Trip Cullman's aggressive, almost interactive staging in the virtually unrecognizable New York City Center Studio at Stage II—which has been converted from a thrust to a cabaret—the likes of Will Swenson, Karen Olivo, Rebecca Naomi Jones, and John Ellison Conlee may end up at your table, in your face, or on your lap.
Now, I'm not complaining. These names may not be Hollywood box-office draws. They're not next to Channing Tatum as People's Sexiest Man Alive. But put them in an intimate environment singing sex-fueled songs and you have a Broadway fan's wet dream. Cullman's blocking and Doug Varone's in-your-face choreography distract from the somewhat thin story, and four microphone stands and a stage are all you need to do this music justice, even if a sameness permeates it.
Again, it's not really about the plot, but just so you know, here's the gist. A young rebellious New York woman, Sara, has a relationship with an equally unruly man, Tom. When the two break ties, Sara marries a responsible poetry-PhD-turned-businessman, Michael, and starts a family, while Tom becomes a club owner on the Lower East Side. But Sara and Tom's connection still simmers and boils, coming back to haunt both of them.
Swenson, Olivo, Jones, and Conlee have never sung better, and Nash's tunes fit their voices like a glove, aided by Justin Levine's impeccable vocal arrangements. Lighting designer Ben Stanton overdoes it a bit, as the ambience needs very little to be set and bringing high-wattage instruments made for a proscenium to a small space can be blinding. Swenson and Olivo's chemistry blisters as Tom and Sara, while Rebecca Naomi Jones sings beautifully in her narrator role, though the character struggles to remain integral to the story. Conlee is brilliantly cast as Michael, and he possesses a Blake Shelton likability fused with a downhome, raspy voice. The quality fits the character, and it's nice to have a different sound, as the music rarely strays from the generic rock ballad.
Not everyone will love the lack of a fourth wall. The Sunday matinee crowd seemed a little bit put off by the cast's antics and nervous about the proximity of fight scenes. But I can't imagine what the show is like at the 9 p.m. performance. The energy is electric.
Presented by Manhattan Theatre Club at New York City Center's Studio at Stage II, 131 W. 55th St., NYC. Nov. 15–Dec. 16. (212) 581-1212 or www.nycitycenter.org. Casting by David Caparelliotis and Kelly Gillespie.
Critic's Score: B