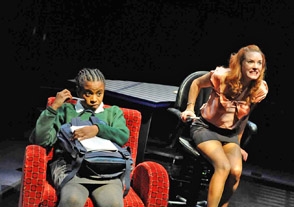 Though it's centered on the timeworn cliché of the wise innocent child, Alan Ayckbourn's "My Wonderful Day" is largely entertaining. While there are some longueurs in this 105-minute intermissionless comedy, particularly in Ayckbourn's slow-paced direction, as well as an unfortunate tendency toward character stereotypes, the show nevertheless offers some hearty laughs and a gently bruised heart.
Nearly 9-year-old Winnie is feeling "throaty" today, so her very pregnant mother, Laverne, decides to bring the kid along to her housekeeping job. Winnie takes the opportunity to fulfill a school assignment: an essay called "My Wonderful Day." This being Ayckbourn, that day is a doozy. Laverne's married employers, Kevin, a hotshot businessman, and his alpha-male wife, Paula, are battling over his affair with his young female assistant, Tiffany. Kevin's sad-sack friend, Josh, who has his own marital woes, is caught in the middle. It all swirls around Winnie because Laverne goes into labor and must be shuttled off to hospital, leaving her daughter stranded.
Everyone, of course, treats Winnie with myopic condescension, exacerbated by the fact that for much of the play they think the little girl only speaks French. She doesn't, of course; it just so happens that Tuesdays are when her mother makes her practice her French, in preparation for their supposed emigration to Martinique. The girl uses this to maintain her distance from the crazy adults, as well as to be privy to conversations they otherwise wouldn't have around her.
28-year-old Ayesha Antoine anchors the show as Winnie. Completely believable as a child, she's particularly good at capturing the girl's awkward, defensive physicality while proving definitively that good acting is all about listening. As the cheerful, self-deluding Laverne, Petra Letang makes it clear that this mother is more of a child than her daughter. Terence Booth is fine as Kevin, though he finds nothing to make the character special. That's probably more Ayckbourn's fault than his, however, as neither the squeaky-voiced Tiffany, who has a passion for baby talk as foreplay, nor the bumbling, defeated Josh offer much to Ruth Gibson and Paul Kemp either. All three are characters we've seen many times before. Even Paula, whose entrance late in the play gives it a needed shot of adrenaline, is limited by stereotype, though Alexandra Mathie delivers it expertly. Her fierce approval of Laverne's language dictum leads to some of the show's biggest laughs when Winnie realizes that Paula's fluent and fast French outmatches her own.
Roger Glossop's sleekly modern home interior, dominated by lots of shuttered metal blinds and some gray furniture, is entirely appropriate but a bit cold for a comedy, and Mick Hughes' murky lighting doesn't do much to liven things up, particularly in the kitchen scenes, which are sometimes hard to see.
Ayckbourn also falters in that kitchen, in a sequence midway when the adults are annoyed that they can't go out to lunch because Winnie won't go. Josh's protracted attempt to wheedle a chocolate bar out of the child just isn't funny, because the situation is unbelievable. Don't they have takeout in the U.K.? But the playwright recovers by the finale. "My Wonderful Day" ends exactly as we know it must as soon as we understand what the title means. Yet Ayckbourn manages a final scene that's both funny and touching. Still, if only he had written the adult characters with more depth, it might have been hilarious and moving.
Presented by the Stephen Joseph Theatre, Scarborough as part of Brits Off Broadway 2009 at 59E59 Theaters, 59 E. 59th St., NYC. Nov. 18–Dec. 13. Tue., 7 p.m.; Wed.–Fri., 8 p.m.; Sat., 2 and 8 p.m.; Sun., 3 and 7 p.m. (No performance Thu., Nov. 26.) (212) 279-4200 or www.ticketcentral.com.