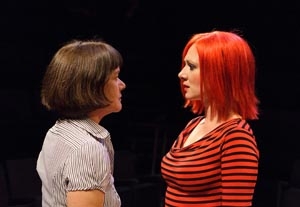 Alan Ayckbourn is back in top form with the dryly hilarious "Neighbourhood Watch," a stinging comedy that spares no one as it looks at a group of British suburbanites who decide to self-police their placid little bit of England's "green and pleasant land" to keep out the riffraff. Directed faultlessly by its author, the show arrives from the Stephen Joseph Theatre in Scarborough, England, with its incisive original cast intact, led by the brilliant Alexandra Mathie, a comic goddess if ever there was one.
The action takes place in the living room of the deeply Christian Hilda and Martin, unmarried middle-aged siblings who have just moved to the Bluebell Hill Development and are throwing a housewarming party. Just before the guests arrive, the blandly affable Martin notices a boy climbing the back garden fence and rushes out to defend his turf, ending up with a small battered case and a kick in the shins for his trouble. The first attendees—the blithely paranoid Dorothy and the gruffly militaristic Rod, both in their 60s—immediately decide that the case must contain a weapon and that the lad was from the Mountjoy Estate, a nearby housing project filled with immigrants. They are soon joined by the 50ish Gareth, an eccentric unemployed nebbish who eggs Rod on to tell the story of his stolen hedge trimmer. Then Magda, a 20-something music teacher, shows up distressed over an attack upon one of her students.
Martin calls a neighborhood meeting to explore ways to combat the wave of terror. Magda's husband, the liberal Luther, is violently opposed to the idea, while Gareth's much-younger wife, the slutty Amy, is amusedly indifferent. But when the meeting is disrupted by Martin's beloved garden gnome crashing through his window, war is declared.
Ayckbourn cleverly ratchets up the scheme to epic police-state proportions as he gleefully skewers the self-aggrandizing, Tea Partyesque fear, fueled by bigotry and xenophobia, that drives these vigilantes. But he's just as rough on Luther and Amy, whose reasons for opposing the group are equally selfish. And he is ruthlessly clear about the ultimate consequences of taking the law into your own hands.
Everyone in the company shines. Eileen Battye is a vacantly garrulous Dorothy, a mindlessly eager go-alonger. Phil Cheadle takes high dudgeon into the stratosphere as Luther. Richard Derrington simmers and stews entertainingly as Gareth, then starts to boil as this much-cuckolded husband begins doing things like building a set of stocks for the traffic circle. As Magda, Amy Loughton suggests twisted depths beneath a warmly sympathetic, child-bright exterior.
As the libidinous Amy, Frances Grey is a hoot slinking about with one scarlet bra strap oh-so-carelessly exposed, memorably matching her metallic-red dyed hair. Terence Booth finds fresh ways to bark as the hypermasculine Rod, whose wife reputedly "ran away" and whose dog is terrified of him. In the pivotal role of the pacifist Martin, Matthew Cottle is all mild-mannered reason and Boy Scout sincerity as he merrily leads his band off the proverbial cliff.
But it's the glorious Mathie who sends the evening soaring. Her well-mannered Hilda mixes a demure femininity and loving adoration of her younger brother with a will of steel and nerves to match it. Mathie can kill with a glance, and she's never funnier than when letting her face go from beaming to bruised to baleful in one seamless slide.
Pip Leckenby's relentlessly symmetrical set, featuring large flower-bedecked oval couches dotted with red, white, and blue pillows, smartly eschews realism and heightens the comedy, while his slyly observed costumes include such witty touches as Amy's sliver of a red belt that screams independence from the black mourning outfit that circumstances have forced her into.
The very British Ayckbourn doesn't always travel well to America, but "Neighbourhood Watch," wisely retaining its "u" and its cast of U.K. natives, has made the journey with all flags flying.
Presented by the Stephen Joseph Theatre, Scarborough, as part of Brits Off Broadway, at 59E59 Theaters, 59 E. 59th St., NYC. Dec. 7–Jan. 1. Tue.–Thu., 7 p.m.; Fri., 8 p.m.; Sat., 2 and 8 p.m.; Sun., 3 and 7 p.m. (No performances Sun., Dec. 25, and no evening performance Sun., Jan. 1. Additional performances Thu., Dec. 22; Wed., Dec. 28; and Thu., Dec. 29, at 2 p.m.; Sat., Dec. 24, evening performance is at 7 p.m.) (212) 279-4200 or www.ticketcentral.com.