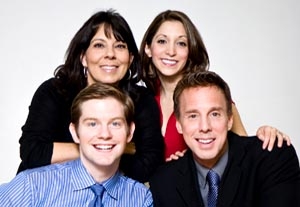 A new edition of the topical revue "Newsical the Musical" has opened Off-Broadway at the 47th Street Theater, recent home to the last edition of "Forbidden Broadway." The shows not only share a venue; three of the four "Newsical" cast members are "Forbidden Broadway" vets. Alas, the similarity ends there. "Newsical" is as lame and tired as "Forbidden Broadway" was cheeky and inspired.
Rick Crom has provided all the material—sketches, music, and lyrics—and he shows an inerrant instinct for avoiding the jugular. His biggest mistake is to begin the evening with a promise, in the song "Everybody's Full of…," to savage left and right alike, and then fail to draw a drop of blood. Jokes on Joan Rivers and Botox cannot be made fresh by dragging in Nancy Pelosi. A musical spoof of the Minutemen, those self-appointed patrollers of our border with Mexico, makes fun of their beer drinking but avoids the political issue entirely. The generic song "Non-Specific Christmas" spoofs a faded controversy while resolutely refusing to engage the actual causes of that controversy. "The Boy in the Balloon" is a mere recapitulation of the incident. A sketch hawking the prison at Guantanamo Bay as a hotel resort is simply ridiculous and sure doesn't discuss torture. The show lands only glancing blows to President Obama; making fun of his big ears and deliberative style is obvious and dull. And where was the same-sex marriage number?
Crom's lyrics display a surface facility, with some nicely turned inner rhymes and very few false ones, but he's much too fond of predictable constructions that telegraph jokes, as well as obvious reversals to button numbers. Musically, the show tinkles along blandly: There isn't a tune that couldn't have been heard 50 years ago at Upstairs at the Downstairs, including a wan Supremes spoof for Sonia Sotomayor and the Supreme Court.
Director Mark Waldrop is a past master of the comic revue, both as writer and director, but even his ministrations can't spin dross into wit. The talented cast—Christina Bianco, Christine Pedi, Rory O'Malley, and Michael West—have the comic and vocal chops for this kind of thing, but that's to little avail. Everybody proves reasonably adept at celebrity impersonations (though West can't quite get Obama), and Bianco is very funny singing "The Hokey Pokey" as a Celine Dion power ballad. The redoubtable Pedi seemed underpowered at the performance I saw, and her Liza Minnelli shtick is getting very familiar. Having seen her to greater effect in the past, I have to assume it was an off night.
All I could think of as the 90-minute intermissionless evening plodded on was a riff on John Adams' comment about revolution in "1776": This is political satire, damn it! We're going to have to offend someone! Sadly, the only offense achieved was at the lack of it.
Presented by Fred M. Caruso, Tom D'Angora, Elyse Pasquale, in association with Annette Niemtzow and Adam Weinstock, Creative Concept Productions at the 47th Street Theatre, 304 W. 47th St
.,
NYC. Opened Dec. 9 for an open run. Mon
.–
Wed
.,
Fri
.,
and Sat
.,
8 p.m
.;
Wed. and Sat
.,
2 p.m
.;
Sun
.,
7:30 p.m
. (
No performance Mon
.,
Dec. 21, and Fri
.,
Dec. 25
;
additional performance Sun
.,
Dec. 27, 3 p.m
.) (
212
)
279-4200 or www.ticketcentral.com
.