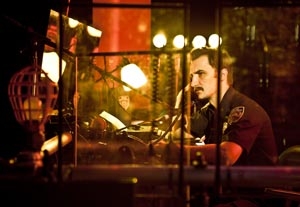 The last few months have not been kind to the public-relations wing of the New York City Police Department. Harsh reactions to the Occupy Wall Street protests have made the realities of police brutality atypically visible. "Newyorkland," Temporary Distortion's latest film-theater "assemblage" (the company's preferred term for its collage aesthetic), was conceived before recent events, but its New York arrival is appropriately timed. Combining video of a fictional documentary series about cops at work with short sequences by onstage actors, "Newyorkland" offers a glimpse into police life from the policemen's point of view.
That creators Kenneth Collins and William Cusick avoid characterizing the officers as heroes, villains, bad-ass vigilantes, or calculating detectives is a relief. Many of the film scenes are set in the 1970s, when police dramas like "The French Connection" first went mainstream, inviting us to read the popular genre against the grain.
The '70s were also the eve of the digital revolution. The onscreen officers are buried in reams of paper and coiled in telephone lines, just as onstage a jungle of 21st-century cables, lights, and mechanical contraptions enclose the actors like cyborg cocoons. Then as now a police officer is a man in a machine, told to be a hero but treated like the instrument of conflicting institutions and sometimes outrageous expectations.
Collins and Cusick do not avoid the trap of sentimentality, as characters soliloquize about their ailing marriages and feeling "hollow." Cops, it might surprise you to learn, are people too. (Cops are also, apparently, mostly men; the experience of female police officers is curiously absent.)
For the most part, though, the coolness of the actors and the cinema-vérité-film style keep "Newyorkland" humble and impressively genuine. Although all the dialogue is fictional, one gets the feeling that the fragile spirits that occupy the thin blue line have finally been given a voice for themselves. They deserve it.
Presented by Baryshnikov Arts Center and Performance Space 122 as part of the Coil Festival at the Howard Gillman Performance Space, 450 W. 37th St., NYC. Jan. 17–Feb. 4. Tue.–Sat., 8 p.m. (212) 352-3101, (866) 811-4111, www.theatermania.com, ps122.org, or bacnyc.org.