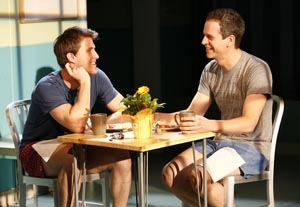 Though occasionally spinning its wheels by doubling back on itself in form and substance and sprinkling red herrings along the way,
Next Fall
is shot through with such sincerity, such depth of feeling, such genuine questioning that it thoroughly captures the attention. Meeting at those dangerous crossroads of sex and religion, life and death, Geoffrey Nauffts' moving drama poses unanswerable conundrums. Though not dealing with them in ways that will spark Ph.D. theses, it does put a human face on the divide between belief and uncertainty.
Luke is dying, having been hit by a taxi, causing bleeding in his brain. From Florida, his divorced parents, mother Arlene and father Butch, rush to his bedside. In the pristine waiting room are friends Holly and Brandon, plus, most tellingly, Luke's lover, Adam. In flashbacks, we see how Luke, an actor, and Adam, a teacher, first met, moved in together, and made a life for themselves. All seems idyllic until an early arrival by Butch sparks Luke's frantic attempt to cover up his gay relationship. Even worse, and in what turns out to be the play's central conflict, Luke is evangelical, while Adam, who may be Jewish, is certainly an unbeliever. (Note the names.) Adam challenges Luke: "If my sin is having sex with men, as long as I've accepted Jesus as my savior, I'll go to heaven?" Adam also clashes with Butch over evolution and pleads with Luke to love him at least as much as he loves Jesus.
Rather than create easy-to-knock-down straw men, however, Nauffts makes the parents more than rednecks and Luke more than a one-track evangelical. As for Adam, he's a Woody Allen schnook, a hypochondriac with a sharp tongue and a firm hold on his emotions. In performance, Patrick Breen makes him vulnerable and open but with a reserve of feeling and doubt that he covers over with smart cracks and an observer's façade. Patrick Heusinger is the frustrated Luke, frantic one moment, playful and seductive the next, creating someone tainted by and reacting against both his upbringing and his physical attractiveness. Connie Ray is most affecting as Arlene, while Cotter Smith underplays Butch. Maddie Corman and Sean Dugan do as much as they can with the underdeveloped friends.
As naturalistically directed by Sheryl Kaller, the evening does not always light fireworks. Yet it gets under the skin and, best of all, manages to stimulate. As Arlene says about a production of
Our Town
, "Somehow I can't remember what it was about, but you could see everything."
Presented by Barbara Manocherian in association with Jeff Davis and Anthony Barrileat the Peter Jay Sharp Theater at Playwrights Horizons, 416 W. 42nd St
.,
NYC
.
June 3
–
Aug. 8. Wed
.–
Fri
.,
7:30 p.m
.;
Sat
.,
2 and 7:30 p.m
.;
Sun
.,
2 and 7 p.m
.(
212
)
279-4200 or www.ticketcentral.com
.
Casting by Howie Cherpakov
.