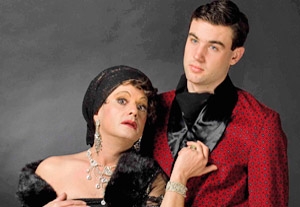 I haven't had the misfortune of sitting through such a puerile display of crotch obsession since college, but that's pretty much the guiding light of writer-director Stephen Stahl's "Norma Doesmen." A distasteful spoof of Billy Wilder's "Sunset Boulevard," "Norma Doesmen" is filled with more jokes about sex and genitalia than a frat house. It's not that I consider sex jokes inherently distasteful, only those so bad that they're a crime against, if not humanity, the gods of comedy and good theater.
And good theater is in shockingly, excruciatingly short supply here. Renowned Judy Garland impersonator Tommy Femia, essaying the Gloria Swanson role with what looks like footballs stuffed into his bra, must endure a script that requires him to utter every other phrase three times. "Me, me, me!" he shrieks with numbing regularity as the self-aggrandizing silent film star. "Bad, bad, bad!" one feels like screaming back.
Rounding out the cast are three actors making rather unfortunate Off-Broadway debuts: Bryan R. Caine as Norma's kept boy, Joe; Ken Shepard as Norma's cross-dressing manservant, Max; and Christina Giordano as Joe's narcoleptic girlfriend, Betty. In each case, they aren't characters so much as conceits that Stahl seems to find hilarious. The humor-impaired Stahl has also permitted costume designer Linda Bee Stockton to embarrass the actors as much as possible with her atrocious costumes.
Luckily, no one gives a bad performance, though I wish I knew why so many actors and directors at the moment seem to think that louder is funnier. But there's nothing for the cast to do with the egg of a script Stahl has laid, riddled with dialogue from "Sunset Boulevard," terrible musical numbers, Sarah Palin references, and, oddly, Tallulah Bankhead quotes. Several guns make an appearance in the finale of the play. By then, you'll feel like using one of them on yourself.
Presented by Lyons Productions at the Abingdon Theatre, 312 W. 36th St., NYC. March 8–28. Tue.–Sat., 8 p.m.; Sat. and Sun., 3 p.m. (No performance Tue., March 9.) (212) 868-4444 or www.smarttix.com.