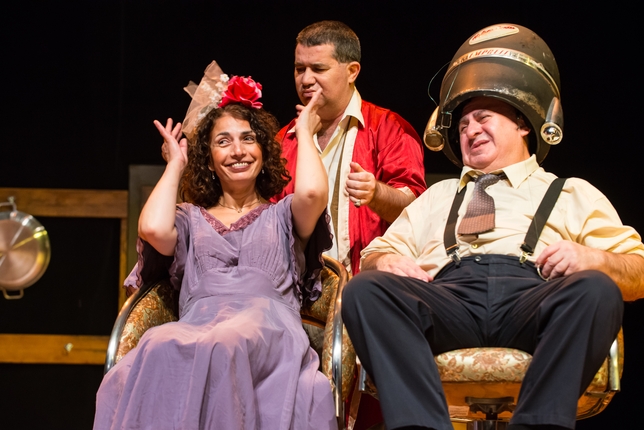 Creative practice in the visual and performing arts has lately shifted from the production of an art object—a painting, a dance, a play—to the orchestration of an "experience," centered perhaps on something of the artist's own making but substantially dependent on what you, the audience, bring to the game and how you choose to play along. While many such experiences seem devised simply in compliance with trendiness and sometimes out of laziness or inability on the part of the artists, "Not by Bread Alone" is prodigiously different. Presented by Tel Aviv's Nalaga'at Theater, it is a sublime testament to the power of experiential theater to enrich our understanding of humans as innately social beings. Its interactive nature constitutes a meaningful conceptual choice that aligns authentically with the production's profound purpose: to share the everyday experiences of the deaf-blind, exposing their inner landscapes, which are rife with dreams, fears, and amusing perspectives on life that bear undeniable similarities to those of the rest of us.
Upon arriving at the theater, you may indulge in a pre-show, kosher-style meal served at a replica of the Nalaga'at Center's BlackOut Restaurant, a dining establishment operated in complete darkness with blind waiters. You can also visit a replica of the center's sign language–only Café Kapish, manned by deaf servers. Conceived and directed by Adina Tal, with original music by Amnon Baaham and Zvi Tal, "Not by Bread Alone" (which can be experienced as a free-standing event) is a humorous 80-minute variety show structured around bread baking, which the cast does in real time throughout the course of the production. It is performed by 11 deaf-blind actors—yes, each actor is both deaf and blind—assisted by translators with whom they communicate through a fascinating variety of haptic methods.
The joy the actors feel while performing is palpable and stands in stark contrast to the isolating darkness and silence that pervade the deaf-blind existence. They communicate their aspirations and frustrations through affecting Hebrew text (with English supertitles) and lively, vaudevillian-style clowning, at which Igor Oshorov and Marc Yarosky (a Chaplin fan before losing his sight) prove especially adept. Their scene at the beauty parlor will have you laughing out loud, as will their bird-watching outing and a trip to Italy, complete with a portrayal of the pope. The cast makes us realize how much of what we deeply enjoy in life is nonvisual and nonaural: swinging on a rope swing, getting one's hair washed, holding a baby. One woman explains that the only way they know of someone's existence is by feeling his or her hand.
At the top of the evening the actors knead dough and then leave it to rise and cook as they enact their comedies. About midway through the show we start to detect that luscious smell of baking bread, and at the end we are invited onstage to eat some and to converse with the actors. No matter how much you laughed and applauded, you must do so, or else these extraordinary performers will never know you were there.
Presented by NYU Skirball Center, in association with Orin Wolf, Arktype/Thomas O. Kriegsmann, Howard and Janet Kagan, David Milch, and Martin Karlinsky, atNYUSkirballCenter,566 LaGuardia Place, NYC. Jan. 16–Feb. 3. (212) 352-310, (866) 811-4111, www.theatermania.com, or www.nyuskirball.org.
Critic's Score: A