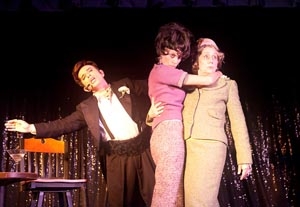 Tennessee Williams wrote his mordantly morbid one-act "Now the Cats With Jewelled Claws" in the late 1960s, then revised it in 1981, not long before his death. An absurdist meditation on mortality, loneliness, and the general triviality of human existence, it combines bitter comedy and decadent sexuality with eccentric song-and-dance sequences. Though it may seem the work of a jaded and self-loathing outcast, it is nevertheless suffused with the compassion Williams always had for the disenfranchised. In any event, thanks to the imagination of director Jonathan Warman and his enthusiastic cast, it makes for an outrageously entertaining 50 minutes in what feels like the perfect space for it, the Club at La MaMa.
Set during the New York City after-Christmas sales in a ladies-who-lunch restaurant whose "proximity to Guffels is its questionable attraction," the play begins with matrons Madge and Bea lunching, drinking, and complaining about, well, almost everything. The restaurant features an aging, heavily painted queen as its manager and a very pregnant waitress with a black eye and a bruised attitude whose every appearance is heralded by a harp arpeggio. Eventually, two handsome young men in pink leather motorcycle jackets that read "The Mystic Rose" arrive. It turns out that they are a romantic couple quarreling about whether they should continue to ply their trade as prostitutes, a profession whose mention perks up the predatory manager. Outside in the street, a mysterious "hunched man" wanders occasionally by, carrying vaguely disturbing messages on placards. Naturally, it all ends apocalyptically.
Warman mixes Williams' diverse elements skillfully, letting them jostle gently about, feeding rather than fighting each other. Mink Stole and Regina Bartkoff are models of enthusiastic understatement as Madge and Bea, blithely judgmental, cuttingly shallow, and utterly devoid of self-awareness. Everett Quinton is an extravagantly creepy manager, creating a character out of expressionistic physical movement as much as dialogue. Erin Markey's dry, seen-it-all waitress is a hoot in her balletic entrances and exits but never funnier than when rapturously explaining to the manager why she can no longer continue to come to work.
Max Steele and Joseph Keckler are an affectingly innocent pair of young whores. Steele is terrific in his "dance which expresses his loneliness, fear, violated manhood," as the stage directions put it, while Keckler displays commanding presence and a remarkable singing voice in a bravura sequence of sung text. Charlie Schick is a gleefully mysterious hunched man.
Jonathan Collins' simple yet evocative set is lit with intelligence by Yuriy Nayer, though I couldn't help wishing he had more firepower at his disposal. What money there was has clearly gone to Karl Ruckdeschel's inspired costumes (I particularly loved Mink Stole's sea-green tailored Chanel weave suit). Composer Trystan Trazon's eclectic score is completely in tune with Williams' sensibility and adds immeasurably to the proceedings.
It's hard not to see the manager as a stand-in for the playwright and to read the piece as the cry of a damaged man who could never completely accept his homosexuality as natural and healthy. Williams was disdained for his sexuality even when he was lionized for his work, and once that work took an unacceptable turn away from the mainstream, he was cast unceremoniously aside, the veiled disdain quickly replaced by open contempt. That he maintained a wicked sense of humor, a merciless eye, and an unceasing ability to write in the face of all that is Williams' personal triumph. And it's that triumph that suffuses this admittedly minor but nevertheless raucously effective grotesquerie. 
Presented by and at La MaMa ETC, 74A E. Fourth St., NYC. Oct. 30–Nov. 13. Thu.–Sat., 10 p.m.; Sun., 5:30 p.m. (212) 352-3101, (866) 811-4111, www.theatermania.com, or www.lamama.org.