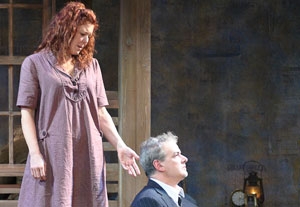 Ever since it was revived in 1973, Eugene O'Neill's once forgotten "A Moon for the Misbegotten" has become a favorite vehicle for actors to flex their dramatic muscles. Completed in 1943, the play continues the tragic downward spiral of Jamie Tyrone, the wastrel elder brother of "Long Day's Journey Into Night," as he attempts to find solace in the arms of an earth-mother figure in the form of Josie Hogan, a boisterous yet tenderhearted farmwoman. The drama combines the pathos of Jim's battle against his inner demons with raucous Irish humor derived from the antics of Josie and her leprechaun-like father, Phil, who live on land rented from Tyrone. It premiered on Broadway in 1957, four years after the playwright's death, received mixed notices, and closed after only 68 performances. "Moon" was largely ignored until director José Quintero staged that legendary revitalizing production, with Jason Robards and Colleen Dewhurst plunging to the depths of the characters' souls and sharing the treasures found there with grateful critics and audiences.
Since then, Kate Nelligan and Ian Bannen, Gabriel Byrne and Cherry Jones, and Kevin Spacey and Eve Best have brought the awkward, ill-fated love affair of Jim and Josie to the Main Stem. Now the Pearl Theatre Company presents this sweet and sad story in the intimate confines of the studio space at New York City Center for its last production before moving on, next season, to the venue previously occupied by Signature Theatre Company. Staged by artistic director J.R. Sullivan with just the right mixture of sensitivity and lightness, this is a mellower "Moon" than most of the previous productions cited. It offers a caress rather than a roundhouse right. The softer approach doesn't completely work. Late in the play—it clocks in at more than three hours—the action drags a bit, with too many pauses and too much slow pacing. But by and large this is a loving and warm rendition of a master playwright's farewell to the theater and life.
Andrew May offers a searing portrayal of a scarred Jamie. Resembling a rumpled Alec Baldwin after pulling one all-nighter too many, May is the perfect picture of a goodtime Charlie whose corny jokes and boyish bonhomie can no longer mask his desolation. Dressed in a natty 1920s suit by costume designer Rachel Laritz, May skillfully dismantles Jim's crumbling facade of jollity to expose the frightened man behind it. Kim Martin-Cotten is equally dexterous at taking apart Josie's pose as a wanton trollop, revealing the romantic virgin underneath. When the two are together, you can see the conflict between the characters' public selves and their private fears on these actors' eloquent faces. But the most effective and telling scenes are the ones when they are alone and about to confront each other. There is a solo moment for each when we can see Jamie and Josie composing themselves and putting on a false front of heartiness.
Dan Daily gives the rascally Phil the spirit of a scamp and the heart of a loving father. His performance contains an emotional truth that overcomes his physical inappropriateness for the role. Daily is tall and full-bodied; Phil is supposed to be a pint-size powerhouse, described by Josie as a "runt" and a "billy goat." It doesn't quite make sense for her to call him those names when Daily towers over Martin-Cotten. But their connection is real, so we can overlook the discrepancy.
Sean McNall and Kern McFadden enliven their brief roles of Josie's pious brother and a snooty millionaire neighbor.
Presented by the Pearl Theatre Company at New York City Center Stage II, 131 W. 55th St., NYC. March 18–April 15. Tue., Thu.–Sat., 7:30 p.m.; Wed., Sat., and Sun., 2:30 p.m. (212) 581-1212 or www.nycitycenter.org.