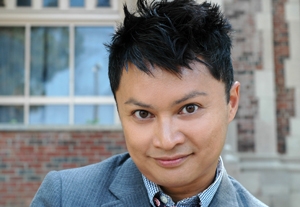 Alec Mapa is frustrated. For his Las Vegas show, the producer wouldn't let him do the obscene parts of his act, so he has saved all his bits about porn, poop, and blowjobs for his New York audiences. Thank you, Vegas. Although those topics sound cringe-worthy, Mapa harnesses the lewd and turns his X-rated material into an entirely touching and laugh-out-loud-funny show about his journey to becoming a parent.
"Do you like my suit?" Mapa asks at the top of what is essentially a 90-minute standup comedy routine. The suit is from Barcelona, where Air France lost his luggage. Mapa goes on to make a few culturally scandalous comments, and he sets the tone for the evening: No one is safe, there will be a lot of talk about sex, and it will be hilarious. The self-proclaimed Gaysian sweetheart has really found a style that works for him, and the audience is filled with loyal fans, who know him from his mainstream work in "Ugly Betty" and "Desperate Housewives." Mapa, though, is quick to point out that he starred in a Disney Channel movie and hosted the gay porn awards last year, a gap few actors can bridge. (He also hands out all the free porn he got from the gig.)
Mapa really hits his stride when he starts talking about his son, Zion, whom he adopted through the foster-care system with his husband. When Mapa learned that black males past the age of 3 are least likely to be placed, he turned to his husband and said, "Our son is black." "You don't have to go all the way to Africa to adopt a black child," Mapa says, recalling responses to questions about Zion's origin. "You can get one right here in the U.S." Zion is from Compton, Calif., and Mapa and his husband adopted him when he was 5 to avoid all the crying fits and pooping. However, they quickly learned that 5-year-olds are not quite over that phase of life yet. Mapa goes on to tell the tale of Zion's breakdown in Barnes & Noble and his explosive diarrhea at Thanksgiving. Mapa compares gay men in parenting class to Hermione Granger at Hogwarts, and a highlight of the routine is when Mapa compares his parenting style to four musical comedy heroines: Fraulein Maria, Auntie Mame, Momma Rose, and Miss Hannigan.
The evening closes with a slide show of Mapa's family, and it's rare that an evening of comedy can make you laugh hysterically and cry in the same hour. Mapa channels one of his musical theater heroes—Dorothy Loudon, as Miss Hannigan—in the performance, and though he says the show is his last chance, he'll likely have many more to come. But you should see him now.
Presented by Alec Mapa at the Laurie Beechman Theater, 407 W. 42nd St., NYC. July 19–29. Thu.–Sun., 7:30 p.m. (212) 352-3101, (866) 811-4111, or www.spincyclenyc.com.