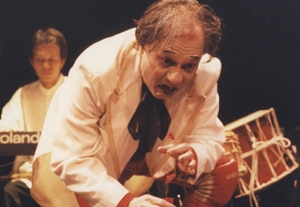 An intimate, impressionistic dance-theater experience, "Baudelaire: La Mort" is a truly multilingual enterprise, both literally and aesthetically. You'll hear spoken text in French, English, Spanish, and Japanese. Its source material is drawn from the death poems of "Les Fleurs du Mal (The Evil Flowers)," a collection of verses by the 19th-century French poet Charles Baudelaire. The poetry's angst and dolorous events are conveyed through an unusual blending of recitation, butoh movement, flamenco, interpretive dancing, French folk song, Spanish guitar, and sparse, Japanese-flavored atmospheric musical sounds (both live and recorded).
Rendered in the murky, mysterious style of an impressionist painting, the production can be hard to make sense of even if you bone up on your Baudelaire (as I did) before the show. Directed and choreographed by Shigeko Sara Suga, it runs less than an hour and loosely traces the painful life of an Everyman character named Baudelaire. Narrative takes a back seat, however, to seductive theatrical heightening of the strange, painful moods of the poetry.
Created by Suga, Ernest Abuba, Anna Gheesling, and Minouche Waring, the work is performed by a beguiling cast. A commanding actor, Abuba interprets the role of Baudelaire through a powerfully contrasting mixture of harsh, straightforwardly delivered text, some odd Kabuki-like singing, and grotesque stylized movement, including a butoh birth-dance solo of his own choreography. Abuba's chilling performance is supported by a trio of enticing yet gleefully evil ladies, costumed by designer Keiko Obremski in Greek goddess
–
style chiffon dresses and identified as the Entities. They are portrayed by Suga, who plays a mean pair of castanets, the animated Tiffany Chen, and a beauty from Paraguay, actor Paola Irun, who joined the cast as a last-minute substitution just 24 hours before the opening-night curtain.
The Entities also have their supporting players, in the form of Tim Liu and Aaron Chieu. Both billed as the character Kuroko, the subservient, silent duo, clothed all in black, act as onstage assistants, handing the actors' props or helping with costume changes. One is reminded of the black-clad puppeteers of Bunraku, who are clearly visible yet not really seen.
Also contributing to the show's evocative theatricality are Marie Yokoyama's smoky lighting, live music played by flamenco guitarist Arturo Martinez and composer Yukio Tsuji, and additional flamenco choreography by Gheesling and Maria Alba.
Presented by Pan Asian Repertory Theatre at the West End Theater, 263 W. 86th St., NYC. March 23–April 1. Wed.–Sat., 7:30 p.m.; Sun., 3 p.m. (212) 352-3101, (866) 811-4111, www.theatermania.com, or www.panasianrep.org.