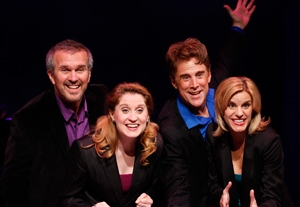 What's that line about the more things change, the more they stay the same? What we used to quaintly call "relationships" are just as fraught in this electronic age (where everyone has his head buried in some device or other) as when people talked face-to-face instead of via Facebook. Or so it would seem from "Closer Than Ever," the charming, mild revival of the 1989 Off-Broadway hit conceived by Richard Maltby Jr. and Steven Scott Smith. The revue, with energetic direction by lyricist Maltby and breezy, romantic music by David Shire, is both good-natured and harmless, displaying touches of genuine feeling as it runs lightly over an era of missed opportunities. To its credit, the revival is enacted with devotion by a quartet of polished singers who turn the varied show melodies into art songs.

Starting with "Doors," which wonders what's behind the six doors of James Morgan's sleek set, the score details differences between being friends and lovers, dating and marriage. The country-inspired "You Wanna Be My Friend" gives way to "What Am I Doin'?," a frantic plea to avoid madness. The jaunty "Miss Byrd" concerns a spinsterish real estate agent who harbors an erotic secret, while "One of the Good Guys" is a poignant remembrance of lost chances. ("It's not which road you take/Which life you pick to live in/Whichever choice you make/The longing is a given.")

The occasional comic number points up the yuppie fear of loneliness. But the emphasis is on amusing and wistful variations on gym time, women's lib, fathers, parenting, and growing old ("The March of Time").

The production, with its bright costumes by Nicole Wee and its delicate lighting by Kirk Bookman, makes up in style what it lacks in its commitment to the material's combination of heartbreak and feistiness. Here, the songs are less one-act plays than recital material. But they're performed by a top-notch quartet in Jenn Colella, George Dvorsky, Christiane Noll, and Sal Viviano, backed by music director Andrew Gerle's lively piano accompaniment and bassist Danny Weller, who has a delightful bit as Colella's foil in "Back on Base."

New additions to the evening are "I'll Get Up Tomorrow Morning" and "There Is Something in a Wedding," which deals with fights, divorces, and all that passes for love these days. Dropped from the original is "Music Everywhere," about the chokehold Muzak once had on a generation. Added are references to DVR, iPhones, and Glenn Beck. But essentials never change; as the soaring "Patterns" declares, "Why are patterns haunting every move I make?" Yet salvation comes. As "If I Sing" has it: "There is joy in making music."

Presented by and at the York Theatre Company, in association with Edward Negley, Neil Berg, and Adam Friedson, 619 Lexington Ave., NYC. June 20–Nov. 25. Mon. and Tue., 7 p.m.; Wed.–Sat., 8 p.m.; Sat., 2:30 p.m. (No performances July 15–22.) (212) 935-5820 or www.yorktheatre.org. Casting by Arnold J. Mungioli.