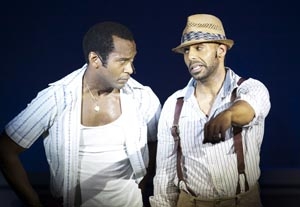 Roberto Clemente probably lived a pretty interesting life, but you can't be sure from viewing "DC-7: The Roberto Clemente Story," the musical at the Puerto Rican Traveling Theatre. I salute Luis Caballero (book, music, lyrics, and direction) and Harold Gutiérrez (music) for their choice to tell an inspiring story of a Puerto Rican nobody who fully exploited his natural athletic gifts, helped puncture racial barriers in sports, and lived a life larger than just baseball. Their execution is something else again.
To begin with, there's Caballero's dismayingly prosaic dialogue. I wasn't up enough on my Spanish to catch every word (there are supertitles, but they're incomplete, ill-timed, dimly lit, and badly spelled). But whether in English or Spanish (or French, when Clemente is in the minors in Montreal), it's as unadorned as can be: "May God be with you." "What do you do when love suddenly crosses your path?" "Hate has crept inside me." Then there's his choice of what to musicalize. Clemente (Modesto Lacén) has a more-poetic-than-usual speech early on about how playing baseball makes him feel free and invincible, and if it's not a song cue, I don't know what is. Later, he soliloquizes about a fatalism that tells him life is short and he'd better spend it helping others, another song waiting to happen. But both remain unsung and underdramatized.
Instead, we get generalized happy ensembles about celebrating and playing ball (set to pleasant salsa-tinged melodies, well played under Gutiérrez's musical direction) and endless solos that keep restating the same point. The song spotting is horribly sloppy. Clemente's wife, Vera (Lorraine Vélez), appears in the first act to sing of how she fell in love with him at first sight, then reappears in the second act, seemingly meeting him for the first time and putting him off. Near the end, she has a number about her last eight seconds with Clemente that seems to go on for about eight minutes. Partly to blame is Caballero's direction, which is swiftly paced at first, when Clemente is mastering baseball skills in Puerto Rico, but slows noticeably toward the end, by which time there are pauses in the dialogue you could drive Clemente's white Cadillac through.
Plot points are randomly picked up and discarded: The first act ends with Clemente being harassed, beaten, and arrested by snarling white cops—and that's the last we hear of it. As he fights the good racial fight and courts Vera, baseball becomes incidental. We never find out how he got along with his teammates or anything about his personality beyond a reputation for arrogance that appears not inaccurate. Lacén has Clemente's dazzling smile down pat (revealed in evocative newsreel footage), and he's good when he's angry. But he doesn't exhibit a lot of emotional range, and his singing is off pitch. Vélez, by comparison, is poised and vocally secure, and Josean Ortiz, as Clemente's protective older brother, has a natural sincerity and enthusiasm that Lacén lacks, even if most of Ortiz's role is narration.
Caballero might want to study some of the better biographical musicals—he could start with "Fiorello!"—to see how character is revealed, life events are carefully edited, and song furthers plot and illuminates emotion. With "DC-7," he has stirring source material, but too often he drops the ball.

Presented by Society of the Educational Arts and Manuel A. Morán, in association with the Puerto Rican Traveling Theatre and the Rivera Mercado Marketing Group, at the Puerto Rican Traveling Theatre, 304 W. 47th St., NYC. Feb. 14–April 8. Thu.–Sat., 8 p.m.; Sun., 3 p.m. (212) 352-3101, (866) 811-4111, (212) 529-154, www.theatermania.com, or www.nyctastemakers.com/DC-7.