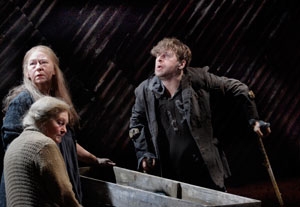 Each of the plays in "DruidMurphy," a cycle of three works by Irish playwright Tom Murphy all directed by Garry Hynes, begins with a pensive woman alone in a spotlight. In one, we see a young bartender meditating over the many men who will bring their troubles through her door. In another, we see a housewife taking stock of a home she is in the process of losing. In the third, a withered old woman in a simple frock chants a lament for a lost child. All three are connected, like branches to roots, with the places they call home, their loyalty negating any need for sentimentality. It is from this position of penetrating awareness and perverse love that Tom Murphy writes his Ireland.
Murphy, 77, is a major literary figure in his home country, a chief influence on playwrights such as Martin McDonagh and Enda Walsh. Nevertheless, he has had few productions and none of his successors' name recognition in the U.S. This discrepancy may have something to do with the specificity with which he represents the Irish experience. For Murphy, centuries of displacement, neglect, and diaspora have shaped the way his characters live and breathe, often without their fully recognizing it. His closest American equivalent, in their shared capacity to represent history as the fabric of experience, is August Wilson.
"Conversations on a Homecoming," written in 1985 but set in the 1970s, is the quietest and simplest of the plays. Michael (Marty Rea), a young actor living in New York City, returns to his hometown in County Galway. Sharing pints with his friends in a pub, where a photo of John F. Kennedy hangs on the wall, he tries to convey his American-born optimism to his former comrades. But their resentment over the increasing poverty and political crimes in the country he abandoned turns the conversation hostile. The clenched fists and reddening face of Tom (Garrett Lombard), his former best friend, symbolize the rage and injury that boils, unrepresented, throughout the proceedings. The play is a referendum on the Kennedy generation, measuring the scars left by the puncturing of its illusions.
In "A Whistle in the Dark," originally produced in 1961 and Murphy's first major play, his characters' fury is on display. A moderately educated and successful young man, also named Michael (and played by Rea) and living in England, is visited by his four brothers and his father, who has taught the boys that fists beat brains and loyalty demands contests of brute strength. Des (Gavin Drea), the youngest of the clan, has yet to be fully initiated into his relatives' mobster ways, so Michael tries in vain to convince him to abandon the family. The production is the most successful of the three, presenting a white-hot angry shriek from a then-young playwright channeling the resentment and the restlessness of a generation clawing its way out of the 1950s.
In contrast to the domestic realism of the first two plays, "Famine," written in 1968, is a historical epic about the potato famine of 1845–51. Through increasingly wretched vignettes, we watch a town rend itself apart thanks to staggering poverty and the criminal neglect of the British government. Though it loosely tracks the fall of a tragic hero, John Connor (Brian Doherty), who clings to his faith in "the right thing," "Famine" is more properly a long expressionist montage. The experience is memorable but tiring, and Hynes' production can't hide its preciousness. But as we watch the breakdown first of social order and then of psychic welfare, we recognize an origin story for Irish dramatic aesthetics: the sense of slowed time, wasted minds, and the futility of even the cruelest of gestures that marks playwrights from Yeats to O'Neill to Beckett to McDonagh. It is Murphy, though, who connects the dots from emotional truth to historical and political experience.
Hynes, artistic director of the Druid Theatre Company and best known in the U.S. for her Tony Award–winning direction of "The Beauty Queen of Leenane" (she also helmed the six-play "DruidSynge" at the Lincoln Center Festival in 2006), treats Murphy's work with her trademark lyricism and dignity. Though these plays were never intended as a trilogy, she and her designers stage a subtle visual conversation among them. They mark the characters' tortured relationships to the hearth by placing heating lamps in the first two plays and a roaring fire in the third. They cast actor Aaron Monaghan in three roles that merge mechanical tools (keys, brass knuckles, crutches) into their identities. Associate director and designer Francis O'Connor covers the theater's back walls with panels of corrugated metal harshly colored in browns and reds. This sharp texture teases the edges of the first two plays' unit sets before asserting itself as the environment for "Famine." Lighting designer Chris Davey and costume designer Joan O'Clery match dark corners and heavy lights with pallid hues of brown, blue, and pastel, producing a general eerie moodiness that never feels stale or uninhabited.
Aside from encountering Murphy's work, the most thrilling part of "DruidMurphy" is the ensemble cast, which effortlessly and fully inhabits each of the plays' worlds. Monaghan, who is featured in all three works, finds remarkably varied uses for his high-pitched sneer and piercing delivery. Eileen Walsh brings virtuosic comic timing to her part in "Conversations" and a fierce desperation to Michael's wife in "Whistle." Rea, Lombard, and Doherty also deserve praise for their range and power. While one hopes "DruidMurphy" is not New York's only encounter with Tom Murphy, it will surely prove a superior one.
Presented by Druid Theatre Company as part of the Lincoln Center Festival at the Gerald W. Lynch Theater at John Jay College, 524 W. 59th St., NYC. July 8–14. "Conversations on a Homecoming": Tue., July 10, 7:30 p.m.; "A Whistle in the Dark": Wed., July 11, 7:30 p.m.; "Famine": Thu., July 12, 7:30 p.m.; full cycle: Sat., July 14, 1 p.m. (212) 721-6500 or www.lincolncenterfestival.org. Casting by Maureen Hughes.