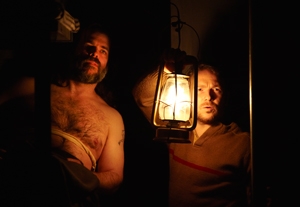 Separated by nearly a century, Richard Maxwell and Eugene O'Neill are both theatrical surgeons, excising the sentimentality into which drama so easily slides. They join forces in "Early Plays," a staging of three rarely seen O'Neill shorts presented in collaboration with the Wooster Group. Elizabeth LeCompte, the company's co-founder and director, has handed Maxwell her actors, designers, and impressive technological resources to do with as he pleases. "Early Plays," thus, is Maxwell meets O'Neill, with the Wooster Group as the director's instrument. The result is a carefully wrought and visually beautiful production that is defeated by its own rigor. It lacks the thing O'Neill cared about most in his theater: a beating heart.
Between 1914 and 1917, O'Neill wrote three short plays—"Moon of the Caribbees," "Bound East for Cardiff," and "The Long Voyage Home"—that did away with the melodramatic plots favored by his actor father and dragged their characters out to sea. There, isolation and brutal working conditions reduced the social world to its archetypal base, and the ceaseless torpidity of daily life made climaxes and denouements into artifacts of a forgotten world. O'Neill crafted short tableaux of love in the face of cruelty and vice versa. An intensity of emotion emerges in these plays, but their mix of despair and yearning is earned by their dramaturgy.
Maxwell, through his own plays and, since 1999, his company New York City Players has continued O'Neill's project of stripping the familiar from the American stage. But where O'Neill sought the raw cry of lost men's souls, Maxwell looks for the poetry of the natural and everyday. Where O'Neill's characters seek transcendence through booze, sex, and sweaty labor, Maxwell's, stunned by their lack of desire, watch themselves participate in the banality of existence. O'Neill demands virtuosity from his actors and a ghostly romanticism from his designers; Maxwell prefers a forced inexperience from the former and a cold sparseness from the latter.
Jim Clayburgh and LeCompte's set and Aron Deyo and Michael McGee's lights frame the plays in a desolate, cement-colored world that makes fog feel like fingers, and the actors' austere performances match the barrenness of their circumstances. Rather than naturalize O'Neill's infamously thick dialects, Maxwell has his actors speak them phonetically—"Ho, now! Not arft!" and "Orf ye go!"—rendering the language an alien object. The presence of nonwhite actors delivering racist epithets and the casting of the ship's captain as an effete Brit further underscore the distance between O'Neill's world and our own. Such estrangement can breed ironic comedy, as emotional lines are delivered in deadpan, but the laughter reduces the plays to dead relics without unpacking their dramatic machinery.
Many of the Wooster Group's star actors, especially Ari Fliakos and Kate Valk, seem to enjoy Maxwell's simple direction, relieved not to be running around the stage tossing props and pushing technological gizmos as LeCompte would have them doing. But they don't take to the style naturally. Valk makes gags out of her awkwardness, and Fliakos inserts a leading-man charisma into his scenes. The most successful moment in the production is the end of "Bound East for Cardiff," as Fliakos' hardhearted sailor holds vigil over his dying best friend (Brian Mendes, from Maxwell's troupe). Staged in the back left corner of the set, the final tableau has the two men gently cradling each other, a tender moment heightened by the restraint of their performances.
The scene works, in part, because O'Neill breaks form, giving in to a sentimental vocabulary that is strengthened by Maxwell's leavening hand. If there were more such displays of productive contrast, "Early Plays" might have been a revelation. As it is, O'Neill's dialogue and characters tend to disappear behind a wash of disaffection, and the mise en scène (with a rich but unobtrusive soundscape by Bobby McElver) teases with a mesmerizing landscape waiting to be filled, not with ghosts but with men.
Presented by and at St. Ann's Warehouse, 38 Water St., Brooklyn, N.Y. Feb. 22–March 11. Tue.–Sat., 8 p.m.; Sun., 3 and 7 p.m. (212) 352-3101, (866) 811-4111, (718) 254-8779, www.theatermania.com, or www.stannswarehouse.org.