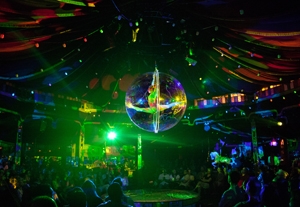 Audiences who have come to expect a certain giddy raunchiness in Spiegelworld's productions—presented in an early-20th-century Belgian wooden structure known as the Spiegeltent, which the company has pitched in various Manhattan locations over the years—may find "Empire" a trifle tame. Yes, there are flirtations with striptease and one full-monty gag from a guy, but now that the intimate Spiegeltent is in Midtown, the show seems to have been curated to inspire gasps of awe from tourists. The accent is on amazing physical feats rather than on the kind of comic-erotic burlesque acts that in the past have elicited "Oh my God—did they just do that?" reactions from even the savviest or most jaded New York theatergoers.
That's not to say that the work is second-rate; it's just that the timbre of the show, which has been directed by Wayne Harrison and choreographed by John O'Connell, has changed. In fact, there are many "oohs" and "aahs" generated by "Empire," which carries a nominal narrative related to the Occupy movement. They begin early on, in a sequence announced as "Globalization," which displays lithesome Elena Lev's exceptional skills as a contortionist within the confines of a giant plastic sphere hanging above the stage. Equally impressive is an acrobatic pas de deux performed by Ludivine Furnon and Martin Charrat, in which their physical prowess is matched by a sweet romantic chemistry. Among the flashier offerings is Tariku Degefa and Yonas Alemu's Risley Act, in which the former juggles the latter with his feet, spinning Alemu like a whirling, backflipping dervish. Similarly, the tiny venue seems to hold no limitations for Roma Hervida and Sven Rauhe, roller-skating dynamos who twirl and swing one another with utter precision, or for Yasuaki Yoshikawa, who maneuvers a hoop to transform himself into a tightly spinning human gyroscope before taking on a German wheel trick that displays his utter command of the device.
Especially memorable are two superlatively quiet acts performed by Rigolo, an artist with impressive concentration. In one, he sends a spinning top up and down and over the awkward angles of a piece of gnarled driftwood with a fluidity that seems nearly impossible. As the show nears its conclusion, he returns to perform a sequence in which he constructs a skeleton for a prehistoric beast by simply balancing bones of ever-increasing size on one another.
Interspersed are comedy routines from the show's hosts (Jonathan Taylor and Anne Goldmann) and songs, generally performed by the supple-voiced Lena Hall, who is as at home with a Cole Porter ballad as she is with a wailing R&B number. Angus Strathie has devised costumes that lend an urban grittiness to the Lycra and sequins normally associated with circuses, and Martin Kinnane's lighting design both washes the show in dashingly vibrant colors and cloaks it in atmospheric dimness.
Presented by Spiegelworld at the Spiegeltent, 265 W. 45th St., NYC. May 31–Sept. 2. Mon. and Sun., 7:30 p.m.; Wed.–Sat., 7:30 and 9:30 p.m. (212) 239-6200, (800) 432-7250, or www.telecharge.com.