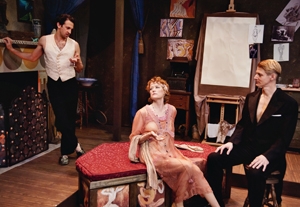 The intriguing bed-hopping games of the Bloomsbury Group continue to provide rich fodder for contemporary commentators. The latest is playwright Joyce Hokin Sachs, who in "Eternal Equinox" examines the impact on painters Duncan Grant and Vanessa Bell when they are paid an unexpected visit at their summer home, Charleston, by an old friend, mountaineer George Mallory, who is about to leave for a third attempt to climb Mount Everest. Sachs uses this incident to create portraits of the three protagonists and of the trio's complex relationship. While the program provides useful factual information, how much you enjoy "Equinox" could depend on how much you know of the Bloomsbury Group—and how much you want to know of this enthralling and oh-so-incestuous crew. Sachs is artful with her early exposition, providing background color while throwing several famous names into the mix: Lytton Strachey, Virginia Woolf, John Maynard Keynes, and Vita Sackville-West.
It is the morning of the autumn equinox of 1923. Vanessa (Hollis McCarthy), the wife of Clive Bell, now lives with Duncan (Michael Gabriel Goodfriend), who despite his attachment to her is still an active homosexual. Duncan and Vanessa have a 5-year-old daughter, Anjelica, who will grow up believing she is the daughter of Bell. Duncan is hung over from Vanessa's birthday party, having wandered off and gone to the nearby pub, bringing home a local lad for company. As Vanessa and Duncan share a gossipy breakfast, in strides George (Christian Pedersen), recently returned from a lecture tour in America. He has come with a request: Will Duncan accompany him to the Himalaya as artist and photographer for the expedition?
The dynamics of the scene suddenly change, and we get to the meat of Sachs' play as the characters dance with—and around—each other. The symbolism of the title comes from Vanessa's observation of the equinox: "Ah, I see. The world hangs in the balance." In the process, what each of the trio wants is defined. For Vanessa, who comes from a famous Victorian family for which she was the constant caretaker, it's the freedom of being an artist. For George, it's the slaying of the silver dragon that is Everest. For Duncan, it's to be an artist and, despite his many peccadilloes, to grow old with Vanessa. Unfortunately, all three points of this triangle are not equally formed, a definite flaw for a play about balance.
The Duncan we witness for most of the evening is either campily inebriated or depressingly disruptive. Vanessa adores him, and George finds him an engaging playmate, though it's hard to see why. Surely in life Duncan had a considerable charm quotient, but hardly a smidgen of it is evident here. Yes, there is a final scene of a repentant and kindly Duncan, but it registers almost as an afterthought. Under Kevin Cochran's direction, McCarthy and Pedersen create vital characters, each finding a unique way of attaining a touch of nobility. For Goodfriend, however, it's a struggle to convince.
Oh, and for dinner Vanessa has made her renowned trifle. Its white grandiosity seems more like a salute to Everest than a dessert for three people.
Presented by Grove Theater Center at 59E59 Theaters, 59 E. 59th St., NYC. March 7–31. Tue.–Thu., 7:30 p.m.; Fri., 8:30 p.m.; Sat., 2 and 8:30 p.m.; Sun., 3:30 p.m. (212) 279-4200 or www.ticketcentral.com.