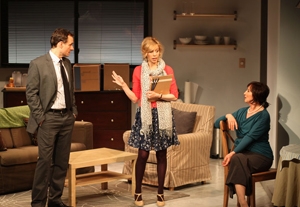 "Flight" never takes off. The show putters along leaving as many plot holes open as an Alzheimer's patient leaves doors unlocked. It's as if playwright Michel Wallerstein loses his way during the initial ascent and can't soar high enough to complete a satisfying dramatic arc.
After moving his mother, Judith, into an assisted-living facility, Andrew slowly begins to explore the mysterious remnants of her past. Without a coherent sense of self, he seeks satisfaction in countless girlfriends, of whom his mother disapproves, and finally confronts his mommy issues just as her mind is deteriorating. Why it's taken Andrew this long to ask and why he's so clueless about it aren't made clear. Andrew's questions begin to reveal that Judith's history is largely a fabrication, and as she sinks into mental oblivion, repressed memories of her experiences in Nazi concentration camps come out, shocking him. Linda, the quirky activities director at the senior center, shepherds Judith, who tries to encourage a relationship between her son and her caregiver. Linda, however, has mental issues of her own, which Wallerstein fails to address.
Andrew likens learning about his mother's life to discovering that there is no Santa Claus, while Linda, on the other hand, seems to have some sort of psychic ability as she rather randomly guesses at Judith's wartime experiences. (Linda keeps a journal of all their interactions.) As Judith forgets who she is, Andrew and Linda butt heads.
Under Padraic Lillis' meandering, ill-focused direction, Jonathan Walker is stilted as the aimless Andrew, while Maddie Corman is overly neurotic as Linda. Maria Tucci's Judith at least suffers convincingly from dementia (this fine actor deserves better material). To cover for the weak script, Tucci simply slathers on the crazy. Lea Umberger's set pieces are appropriately from Ikea (Andrew makes note of his mother's "Biedermeier to IKEA" transition in interior-design taste).
My grandmother suffered from dementia, and the condition is devastating for family. I admire Wallerstein for tackling the difficult subject, but I wish the show's emotional core rang truer.
Presented by Alchemy Theatre Company of Manhattan, in association with Playwrights' Playground of NYC, at DR2 Theatre, 103 E. 15th St., NYC. March 7–April 1. Tue.–Sat., 8 p.m.; Sun., 2 and 7 p.m. (No performance Sun., April 1, 7 p.m.) (212) 239-6200, (800) 432-7250, or www.telecharge.com. Casting by Laura Stanczyk.