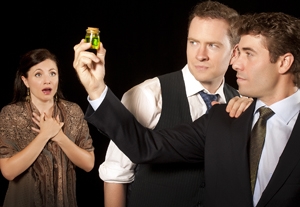 Who would have thought that immortality could be so numbing? "Foreverman," which begins as a gothic mystery, soon devolves into a mash-up of "On a Clear Day You Can See Forever," "Les Misérables, "The Phantom of the Opera," and "The Woman in White." That three of those shows are British demonstrates the semi-operatic path the new musical takes, though it's lacking those works' character development and plot clarity. Instead, what book writer, composer, and lyricist Brett M. Boles has wrought is crushingly repetitious.
We begin in 1676, with a duel between two doctors, Will Timeson and Jack Mercer, who have discovered an elixir that grants immortality. Quarreling, they tear the formula in half, singing "No more will be made, unless we agree/It's just you and me." Only three people drank the potion: Will, Jack, and Will's housekeeper, Mrs. Morgan. Now the three of them can fast forward to 1849, when only Mrs. Morgan finds a modicum of love, with a gardener named Hawkins who is related to a figure from the past.
In the 19th century they encounter Fiona Fairwright, whose ancestor was also the apex of a triangle with Will and Jack. Her family is under some curse decreeing that only boys will survive. The girls die before marriage and their mothers waste away. Jack is engaged to Fiona but really in love with her dying mom, leaving the field clear to Will. The men's quarreling is reignited but short-lived, unlike their existence.
Author Boles touches on provocative themes. Will talks to God, asking, "Will I still be living at the end of things?," and the "Frankenstein"-related idea of cheating death by "sons of Adam searching for Eden" is not without resonance. Unfortunately, these are slathered over an unemotional enterprise.
Boles' music is harmless, with occasional distinct harmonies. His lyrics are less diffuse than his book, which director Stephen Nachamie and cast flesh out with attention to detail. Helping are the projections by Mark Costello, transporting us firmly into specific times and places.
The cast is game, of course. As Will, Omar Lopez-Cepero sings attractively and acts vigorously. Adam Monley is an intense Jack, while Kelly McCormick brings variety to her double role. Also worthy are Glory Crampton as the bed-ridden Mrs. Fairwright, Nat Chandler as her put-upon husband, Larry Cahn as the inexplicable Hawkins, and Karen Elliott as the loyal Mrs. Morgan.
A comic duet between Hawkins and Morgan is a relief from all the confusing doom and gloom, but it's not enough to bring life to this tale of death thwarted.
Presented by Foreverman, LLC as part of the New York Musical Theatre Festival at the PTC Performance Space, 555 W. 42nd St., NYC. July 22–28. Remaining performances: Tue., July 24, 5 and 9 p.m.; Wed., July 25, 1 p.m.; Sat., July 28, 1 p.m. (212) 352-3101, (866) 811-4111, or www.nymf.org. Casting by Cindi Rush Casting.