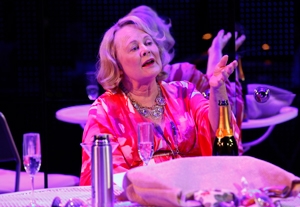 It's hard to know what to make of "In Masks Outrageous and Austere." Tennessee Williams' last full-length play was left uncompleted at the time of his death in 1983. Writer Gavin Lambert, a friend of the playwright who had been working as an unofficial dramaturge on the project, squirreled the manuscript away, not releasing it until 2005. In 2007 it was announced that Gore Vidal, who adapted several of Williams' works to the big screen and was a lifelong friend, would finish the work for a Broadway production, but those plans languished. Now director David Schweizer has compiled a playing script and given the show a fevered multimedia presentation. Starring veteran Williams actor Shirley Knight, "Masks" is a fascinating mess.
A hybrid of two earlier Williams works—"The Milk Train Doesn't Stop Here Anymore" and "The Red Devil Battery Sign"—the play's central themes include death, paranoia, and the greedy domination of international corporations. The world's wealthiest woman, aging alcoholic heiress Babe Foxworth, finds herself and her entourage spirited away from a Texas health clinic to an ocean-side house from which the aurora borealis is visible. Babe, who hasn't lived a day without her omnipresent security staff—referred to as Gideons and dressed interchangeably in white shirts, black suits, and sunglasses—has apparently been isolated because those running Kudzu Chem, the company established by her now-94-year-old father, are suspicious of her 30ish husband, Billy, and his younger male secretary, Jerry.
Babe "purchased," as she puts it, the handsome Billy, a "distinguished minor poet" who has never consummated the marriage and is now conducting an affair with the openly gay Jerry. Billy is prone to coughing fits and may have a fatal disease, though Babe accuses him of faking it. Jerry claims to love Billy, and vice versa, but trust is a problem for both men. As this unlikely trio tries to discover where they are, an opera-singing neighbor, Mrs. Gorse-Bracken, and her mentally challenged, sexually voracious gay son, Playboy, pay repeated visits. Eventually, the corporation makes a decision, and the fates of Babe, Billy, and Jerry are sealed.
Schweizer has opted for an immersive high-tech production—from James Noone (set), Gabriel Berry (costumes), Alexander V. Nichols (lights), Dan Moses Schreier (music and sound), and Darrel Maloney (video and projections)—that impresses even as it swamps Williams' absurd and surreal poetic text with undifferentiated menace when calculated punctuation would be more effective. The actors have to fight their way through it, and for the most part they do. Knight has an inherent decency that makes her miscast as Babe, but she is surprisingly successful at throttling that quality while also occasionally exploiting it to create sympathy for this gorgon. In particular, Knight is wonderfully funny delivering Babe's cynical humor. She was still struggling with her lines, particularly in Act 2, in what is admittedly a mammoth part. When confident, she's terrific; when shaky, she's still rigorously honest. It's a memorable performance that should only become more so after repeated playing.
Robert Beitzel's lightly Southern Billy has the requisite mixture of masculine and feminine attributes, with the actor wisely stressing the nervousness and uncertainty that influence the shifting sands of Billy's loyalties. Sam Underwood is a guileless Jerry, open-faced and sensible at first, then gradually drawn into the morass of suspicions. Connor Buckley is sweetly unsettling as the wordlessly cooing Playboy while creating a convincing familial bond with his mother. As Mrs. Gorse-Bracken, Alison Fraser is a highlight, taking her Charles Busch chops to darker places in a wonderfully grotesque and admirably precise turn. On video in small roles, Buck Henry, as a shaky corporate officer, and Austin Pendleton, as a smarmy physician, both score, with Henry providing an inspired epitaph at play's end.
There are echoes of many Williams works, as well as what seems to be commentary on his then reputation as a decadent cultural provocateur, but what struck me most was Williams' newfound confidence in creating out gay characters. That may be the main mask he was working to shed in this problematic work, which despite its flaws is a must-see for any serious Williams fan.
Presented by Culture Project, Carl Rumbaugh, Victor Syrmis, and Justin Matson at 45 Bleecker, 45 Bleecker St., NYC. April 16–May 26. Tue.–Fri., 8 p.m.; Sat., 2 and 8 p.m.; Sun., 3 p.m. (No performance Tue., April 17.) (212) 352-3101, (866) 811-4111, www.theatermania.com, or www.cultureproject.org. Casting by Billy Hopkins