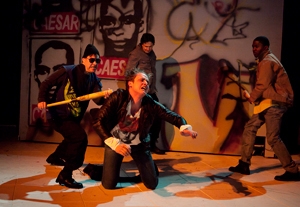 This modern-dress production from the Acting Company might be dubbed "Caesar in Suits." Part of Shakespeare for a New Generation, an initiative sponsored by the National Endowment for the Arts and Arts Midwest, this is a touring version that began in January 2012 at the Guthrie Theater in Minneapolis. Under the direction of Rob Melrose, this dedicated company of young actors serves up a show that runs speedily, like a well-oiled machine. Its most significant virtue is its clarity. On Neil Patel's white-floored minimalist set, aided mightily by Shawn Sagady's ever-present and inventive video design as a backdrop, the suited actors deliver the text with crisp lucidity (credit to voice and speech consultant Andrew Wade). In all this commendable efficiency, however, emotion and atmosphere end up getting rather shortchanged, despite the evidence of several talented performers about to blossom forth.
"Julius Caesar," with its theme of taking action against the threat of perceived tyranny, has always been a favorite for contemporary treatment. Here we have women in the senate, the youngest soothsayer ever as a sort of cub reporter (Caleb Carlson), and the assassination of Caesar achieved with shiny letter openers. None of this distracts, because Shakespeare's words are being given a pleasing incisiveness and the plot is afoot.
To Cassius (Sid Solomon), Caesar (Bjorn DuPaty) has become a leader about to seize total command of Rome and its empire. Together with Casca (Kevin Orton), he is at great pains to persuade the noble Brutus (William Sturdivant) to his cause of bringing Caesar down. As Brutus debates the men through the night, he is confronted by his loving wife, Portia (Kathleen Wise). With Brutus finally on board, the several conspirators prepare for the assassination. Caesar's wife, Calpurnia (Kaliswa Brewster), unsuccessfully tries to keep Caesar from venturing forth to the senate. There the murder takes place, and chaos begins. A wary Mark Antony (Zachary Fine), beloved of Caesar, asks for the leaders' slain body and the chance to speak at his funeral. Brutus assents, beginning a series of flawed executive decisions. In his oration, Antony moves the mob against Brutus and his faction then joins with Octavius Caesar (Joseph Midyett) and Lepidus (Noah Putterman) to do battle with Brutus and company to gain the power that is Rome.
While DuPaty is a dignified Caesar and Sturdivant a well-reasoned Brutus, it is left to Solomon's Cassius to provide the play's spark and driving force. His characterization has a sharpness in this excessively suited world. Fine makes a forceful Antony, but one devoid of irony and guile, while Orton's Casca, here a campy public-relations executive, is certainly an original if eccentric interpretation. Wise's Portia provides some needed emotional heft, and Ernest Bentley, in the small role of Lucius, is wonderfully well-spoken.
A final word on those well-cut suits from designer Candice Donnelly: As Antony began his funeral oration and asks all present to lend their ears, the intrusive image of an insurance salesman making his conference pitch flashed to mind.
Presented by the Acting Company, in association with Guthrie Theater, at the Baruch Performing Arts Center, 55 Lexington Ave., NYC. April 11–22. Tue.–Sat., 8 p.m.; Sat. and Sun., 2 p.m. (Additional performance Sun., April 22, 8 p.m.) (212) 352-3101, (866) 811-4111, or www.theatermania.com. Casting by McCorkle Casting.