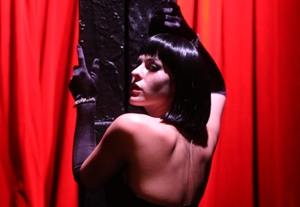 Veronique, the host-cum-storyteller in "Le Cabaret Grimm," welcomes us to the proceedings dressed in spike-heeled thigh-high boots, an ornate bustier, and sparkling red eye shadow. Behind her the seven other cast members, grouped in tight, Fosse-like formation, gyrate sinuously in their moderately scanty costumes and smidgens of punk makeup. They look like a dominatrix and her lackeys, and their song promises that, as hinted by the title, we're going to be exposed to our darkest subliminal fears. They all could be sued for false advertising.
What follows are 90 minutes or so of exceedingly benign storytelling. The narrative, apparently based on an obscure Grimm Brothers tale called "The Singing, Springing Lark," meanders as Princess Stephanie (Ashley Lanyon) travels to the ends of the world and beyond to rescue her husband (Bart Mather) from the thrall of the wicked sorceress Helga (Alessandra Vaganek), who likes to transform the poor prince. He's a lion at one point, then a dove, and finally Helga just holds his own hunky body captive in her Crimson Castle. It's all remarkably inane, even though Veronique is always on hand to provide unnecessary footnotes on what's happening.
There are some beguiling things about the show, the product of a group of Boston-based talents. For the most part the cast, directed by Jason Slavick, emanates an appealingly youthful "I can do it" spirit, even when Michelle Chassé's proficient choreography takes balletic turns that seem a bit beyond their triple-threat vocabulary. Cassandra Marsh's traditional-sounding music boasts several piquant melodies, and it sometimes attains sumptuousness in the playing of the three-piece band, with Marsh as music director at the piano. Slavick's lyrics have some funny if obvious stuff. The big solo for the slightly Frenchified Veronique, played with a determinedly sly salubriousness by Haley Selmon, is a Piaf-like chanson whose words are a stew of familiar French words and phrases, such as "Folies Bergère" and "fermez le bouche."
Most impressive are the puppets and masks, which more than anything else supply a dollop of fairy-tale magic. Tyler Brown and Alexandra Caporale did the puppet design, and Eric Bornstein is the mask artist. Their work includes a big and scary yet expressive lion head for the prince and a much bigger and scarier dragon, whose onstage time is much too brief.
Still, the overall impact of the show is blunted by Slavick's weak concoction of a book, which feels like a pasting together of uninspired sessions of woolgathering. The Grimm guys wrote some good stories. Why not use them?
Presented by Liars & Believers as part of the New York Musical Theatre Festival at the 45th Street Theatre, 354 W. 45th St., NYC. July 24–28. (212) 352-3101, (866) 811-4111, or www.nymf.org.