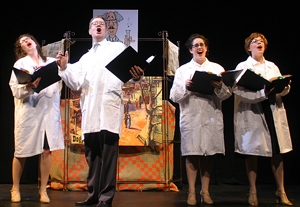 As the lifeblood of the original 1956 Broadway production of the musical "Li'l Abner" was its zippy direction and choreography by Michael Kidd, one might expect to be only minimally entertained by this concert revival from Musicals Tonight!. Produced in the company's usual script-in-hand fashion, on a small stage, with piano-only accompaniment, the show features no full-out dancing, no sets, and just a minimum of staged movement. However, the elimination of the visual trappings highlights the humor contained in the show's satirically witty script and spotlights the appeal of its swinging score.
Written by Norman Panama and Melvin Frank, with music by Gene de Paul and lyrics by Johnny Mercer, "Li'l Abner" is based on the hillbilly characters of the popular Al Capp comic strip. The musical's story revolves around the sweet Daisy Mae's pursuit of the lazy and conceited yet abundantly handsome and goodhearted Li'l Abner. Though he's determined to avoid the restraints of married life, if caught by Daisy Mae in the Sadie Hawkins Day race Li'l Abner must marry her. Complications ensue when human-engineering scientists, corrupt politicians, and a swindling businessman join in chasing Li'l Abner, having discovered there is power and money to be gained from a miracle elixir made from a tree on our hero's property.
The production is efficiently directed and imaginatively choreographed by Thomas Sabella-Mills, who makes brilliant use of slow-motion ensemble staging to depict the convoluted events of the Sadie Hawkins race. But what really makes this revival sparkle is its high-octane, 17-member cast. The performers mine every morsel of comedy out of the script's amusing topical references and parodic characters. Under the musical direction of James Stenborg (who also contributed vocal arrangements), they render the show's sophisticatedly snappy score with the perfect blend of country flavor, Broadway energy, and jazz stylings.
Jessica Wagner sings like a dream in the role of Daisy Mae. With his piercing tenor (so bright that it's almost a caricature of a voice, utterly suitable for the tone of this show), Bill Coyne is stupendous as Li'l Abner. Mary Stout is authoritatively down-home country as Mammy Yokum, and David Brent Howard gives a laudable performance as the undesirable Earthquake McGoon. As Marryin' Sam, Jody Cook displays spot-on comic timing that frequently heightens the work of his fellow actors.
Ineffective, however, are the placards that are placed on a stand upstage center to designate scene changes. They seem to contain colorful paintings of the story's different locales and some sort of title, but the printing and the canvases are much too small to register from the audience.
Presented by Musicals Tonight! at the Lion Theatre, 410 W. 42nd St., NYC. March 20–April 1. Tue.–Sat., 7:30 p.m.; Wed., Fri., and Sun., 2 p.m. (212) 239-6200, (800) 432-7250, or www.telecharge.com. Casting by Holly Buczek.