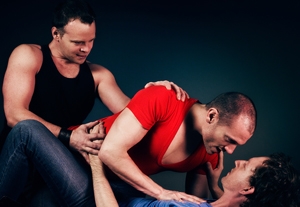 "Living With Henry," which comes to the New York Musical Theatre Festival from Canada, is author Christopher Wilson's attempt to examine his experiences of living with an HIV infection. Up to now Wilson has been a performer, so taking on the book, lyrics, and music of an original musical the first time at bat is more than a bit quixotic. And Wilson's inexperience is evident, particularly in the shaggy craft of his nevertheless not unappealing score. Fortunately, his intelligence and emotional acuity outweigh his rawness. "Living With Henry," flaws and all, is a welcome and affecting new musical.
The show tells the story of the 20-something Michael, who becomes involved with the hot, HIV-positive Matthew, gets turned on to crystal meth against his better judgment, and ends up having unsafe sex. They soon break up, and Michael thinks he's ducked a bullet after he gets a negative test result, but no such luck. Michael then has to negotiate dealing with the judgment of Jenni, his lesbian best friend; telling his widowed mother, who made him swear to be safe; and navigating the terrain of a new relationship with the empathetic and hunky Peter, who may not be as cool with things as he claims.
But there's another character onstage. That's Henry, Wilson's personification of the virus. Henry is also symbolic of the self-loathing so many gay men internalize from society while growing up. The device is a good idea with complications. Henry speaks and sings, and so Wilson must contend with what he wants. In actuality, the virus wants only one thing: to replicate. That's not enough, and sometimes Henry's motivations are murkier than they should be. However, particularly as enacted by the dynamic and sexy Dale Miller, Henry is the vital and intriguing centerpiece of the proceedings. He and the excellent Ryan Kelly—who brings depth and nuance as well as an appropriate Everyman quality to Michael—strike plenty of sparks in their struggle for control.
Director-choreographer Donna Marie Baratta stages with invention and fluidity on Jennifer Goodman and Laura Gardner's smart set of recombining sections of benches and chain-link fence. Baratta elicits sharp work from the committed six-person cast, all making their New York debuts. Gavin Hope is a warmly appealing Peter, Mary Kelly is both centered and needy as Michael's mom, Lizzie Kurtz is a caustically funny yet nurturing Jenni, and John Edwards shows considerable versatility in four roles, scoring the most as the defensive but irresistible Matthew.
Wilson's writing is notable for its adult willingness to recognize that good people can still behave badly, exploring why with real insight. On the debit side, the choice to employ presentational performance styles in certain numbers never quite feels integral, and the musical styles selected are a bit obvious: a tango for group sex at the baths, a vaudeville routine for quarrelling lovers. Wilson should rewrite the lyric of the latter to remove the unfortunate procession of false rhymes; I don't like them anywhere, but they certainly aren't appropriate to such an archaic musical form and undercut the dramatic effect. Indeed, Wilson's bald lyrics are his weakest contribution, though they are never cloying and do get the job done. His music is stronger, and he does deliver some standout songs, such as the buoyant subway-pick-up duet "Glad to Meet You" for Peter and Michael and the eloquently simple "I Remember You" for Michael's mother.
Not every musical belongs on Broadway, and "Living With Henry," which has a modesty that becomes it, is probably right where it should be. Intimate and unpretentious, it's a small show with a great big heart.
Presented by Beyond Boundaries as part of the New York Musical Theatre Festival at the PTC Performance Space, 555 W. 42nd St., NYC. July 24–29. Remaining performances: Wed., July 25, 9 p.m.; Fri., July 27, 9 p.m.; Sun., July 29, 1 p.m. (212) 352-3101, (866) 811-4111, or www.nymf.org.