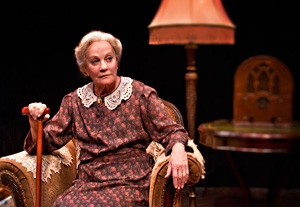 It's surprising to learn that "Lost in Yonkers," Neil Simon's finest play—it won him the Pulitzer Prize and the Tony Award in 1991—hasn't been seen in New York City since the original production closed. Though TACT/The Actors Company Theatre's revival is welcome and overdue, I did fear that 20 years on the piece might reveal flaws camouflaged by Simon's unexpected late-career artistic breakthrough to going deeper and darker. I'm happy to report that the script holds up just fine, despite the mildness of TACT's production, in which director Jenn Thompson re-envisions (and slightly edits) "Yonkers" as a chamber work.
Eddie Kurnitz is in trouble. In debt to a loan shark for money he needed to pay for his now-deceased wife's cancer treatment, he has taken work as a traveling scrap-metal salesman, a lucrative job during World War II. He has no choice but to leave his two sons—15-year-old Jay and 13-year-old Arty—in the care of his cold and forbidding German-Jewish mother, from whom he's been estranged. Grandma Kurnitz lives over a candy store that she owns and runs in Yonkers and wants no part of her grandkids, but she is forced into accepting them by Eddie's younger sister Bella, a brain-damaged spinster with the emotions of a child, who lives with and takes care of her mother. The smart-alecky boys do what they can to placate their dominating grandma while scheming to get enough money to pay off Dad's debt. Bella, meanwhile, falls in love with a mentally challenged movie usher and begins to explore her womanhood. Then Eddie's younger brother, Louie, a bag man for gangsters, shows up to hide out from some hit men, complicating matters further. Also in the mix is the other Kurnitz sibling, Gert, who has a respiratory disorder due to terminal nervousness engendered by her mother's abuse.
The stakes are high and the characters are rich in "Yonkers"—Irene Worth, Mercedes Ruehl, and Kevin Spacey won Tony Awards for their work as Grandma, Bella, and Louie—but at the Beckett Theatre not so much. The first warning bell is sounded when Dominic Comperatore's appropriately anxious Eddie can't quite find the desperate dignity in his self-castigating apology to his mother after she refuses to help him. But the play isn't about Eddie. As Grandma, Cynthia Harris has the externals in place—correct accent, stolid physicality, icy demeanor—but her performance remains too much on that surface, insufficiently suggesting the turmoil within. Finnerty Steeves' warm and sympathetic Bella is too capable, especially in the second act, when we forget about her character-defining disability almost entirely. Alec Beard has a commanding presence as Louie, but he imprisons himself in a self-conscious Jimmy Cagney–esque accent and body language that keep us at arm's length. Simon cheats a bit with Gert, who is more plot facilitator than character, but Stephanie Cozart gives her a bruised humanity and wisely underplays the breathing shtick.
Fortunately, Matthew Gumley and Russell Posner are terrific as Jay and Arty, utterly convincing as brothers. Gumley delivers Jay's barbs with confident flair but can also handle an emotional meltdown leading to tears with impressive authority. Posner is sly and scrappy, stealthily lobbing bombs with a deadpan innocence one minute, then grimly determined to hold his ground with Grandma the next.
Thompson's decision to jettison the voiceover letters from or to Eddie that begin each scene was done to speed the action and heighten the boys' isolation. Lost, however, is the information about Eddie's health issues and the looming fear that he might never return (the info is briefly shoehorned in elsewhere but doesn't land), which fuels the brothers' desperation to get him back. It's one in a line of reductive choices that have led to this underpowered production.
Presented by TACT/The Actors Company Theatre at the Beckett Theatre, 410 W. 42nd St., NYC. March 22–April 14. Tue.–Thu., 7:30 p.m.; Fri. and Sat., 8 p.m.; Sat. and Sun., 2 p.m. (Additional performance Wed., April 4, 2 p.m.) (212) 239-6200, (800) 432-7250, or www.telecharge.com. Casting by Kelly Gillespie.