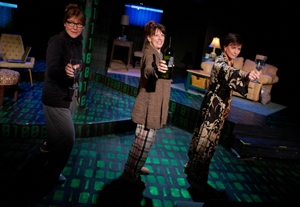 Her name's not in the program, but surely Nora Ephron is the spiritual mother of "Marrying George Clooney: Confessions From a Midlife Crisis," the middle-age meditation by Amy Ferris, Ken Ferris, and Krista Lyons, after Ms. Ferris' eponymous book. Three 50-somethings (Eliza Ventura, Meghan Duffy, and Colleen Zenk) serve up musings on aging parents, eroding love lives, fashion, vaginas, and all things Clooney in monologues, dialogues, and three-ways, meant to be pithy and insightful and trigger "Oh, yeah!" moments in the show's intended audience. (Unfortunately worded sample: "Menopause is part of being a woman, period.") Would that the authors had Ephron's irony, economy of phrase, and way with a zinger.
On a busy multilevel set (by Jon Knust), these three interact via 3 a.m. Facebook sessions, though that premise is quickly dropped in favor of unadorned stand-and-recite confessionals. All the actors are fine, with Ventura's salty independence making the strongest impression. But they haven't much to work with. The three identities are indistinct. Though Ventura is vaguely the strong one, Duffy the mousy-housewife one, and Zenk the flirty one, pretty much any line could be assigned to any character. The multimedia trappings (media design by Grant McDonald), with elaborate sound and video effects, are distracting, as is Frank Ventura's unfocused direction, with the other two women engaging in look-at-me business while the principal figure of the moment is trying to make a point and needless rallentandos in the pacing every time one of them reaches an emotional climax.
And those climaxes don't reach very high. Case in point: Ventura, with a mom suffering from advancing dementia, finally visits her, fearing she won't be recognized. Mom does know her daughter, which should be a huge catharsis, but the language is so ordinary and the pacing so languid that it barely registers. To pep things up, Ventura has the three dance clumsily to old songs they love—"Proud Mary," "I Feel Good," and "R-E-S-P-E-C-T"—and force us to sing "Wind Beneath My Wings" with them.
Obviously I'm not the target demographic for this stuff, but little of it seemed to resonate even with the largely distaff contingent around me. The message seems to be that women of a certain age have more in common than they realize and are emboldened by sharing their feelings with one another. Good point, but it's not powerfully communicated. And the rest of us, as far as the piece is concerned, can go to blazes.
Presented by and at CAP21 Theatre Company, 18 W. 18th St., 5th floor, NYC. March 1–24. Wed.–Sat., 8 p.m. (212) 352-3101, (866) 811-4111, www.theatermania.com, or www.cap21.org.